The Beer Aquatic with 7 Seas and Wet Coast
December 23, 2021 @ 5:00 pm

-

8:00 pm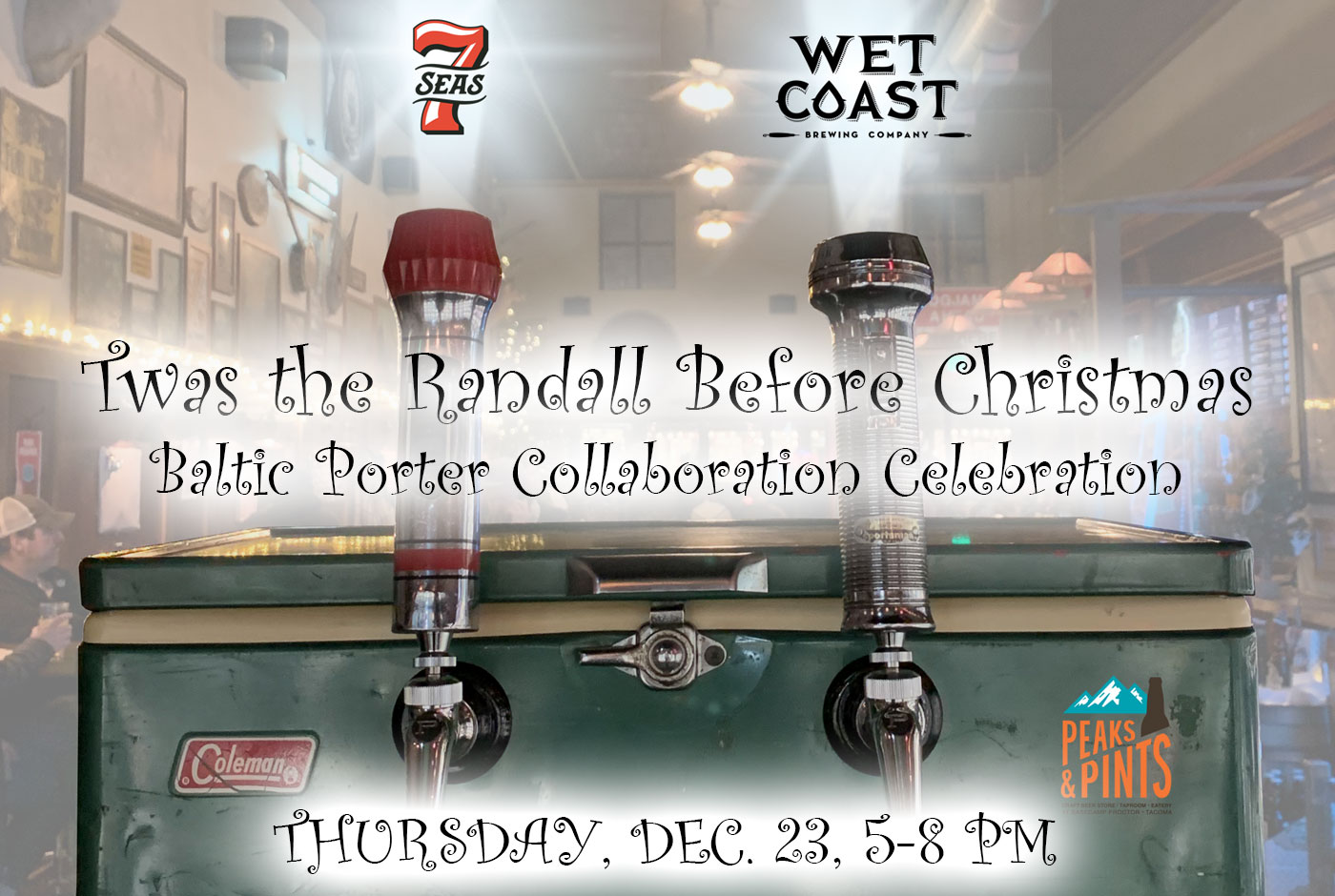 The Beer Aquatic with 7 Seas and Wet Coast
There's nothing worse than awakening from a long winter's nap, rolling out of bed, and discovering it's two days before Christmas — and not a creature is stirring. But you'd better not cry, and you don't need to pout, because Peaks & Pints has crafted a holiday festival Dec. 23, "The Beer Aquatic with 7 Seas and Wet Coast." The local breweries collaborated on the Rising Tide Baltic Porter, which will be tapped at 5 p.m., Thursday, Dec. 23, at Peaks. So, get your jollies, and jingle a little, too, because we have that whole day planned for you.
THURSDAY, DEC. 23: The Beer Aquatic
>>> Wake up at 6 a.m.
>>> Throw on your wet suit and swim in Commencement Bay. It'll work out your entire body — arms, legs, shoulders, lungs, heart — as well as turn you blue.
>>> Crank your home's heat, throw on your Team Zissou bathrobe, and sip on a 7 Seas IPA while cooking tuna cakes for breakfast.
>>> Dress in your light blue retro-inspired uniform, red knit cap, and Adidas striped sneakers, crack open a Wet Coast Cream Ale and stream Wes Anderson's The Life Aquatic. Feel thankful you're not dealing with pirates, kidnapping, and bankruptcy.
>>> Head to Wet Coast Brewing in Gig Harbor, order a pint of On The Sly Cold IPA, and read up on Baltic porters on your phone. You'll discover Baltic porters evolved in the 18th century from the British porter. It was designed to be shipped across the North Sea to the lands of the Baltic Sea. Much of the beer was destined for Russia. It is similar to and closely associated with the Russian imperial stout. While porters and imperial stouts are ales, the Baltic porter is made using lager yeast and fermented at colder temperatures. The strong lager is known for an assertive chocolate malt that imparts sweetness and often hints of toffee, licorice, and roastedness.
>>> Stop by The Foss Waterway Seaport and check out the new exhibit, "Shipwrecks – Duty of Memory." It's a photography exhibition by Italian photographer Stefano Benazzo.
>>> Head up the hill to 7 Seas Brewing, grab a can of Heidelberg, and sing a sea shanty in the massive taproom.
>>> At 5 p.m., head to Peaks & Pints for the 7 Seas/Wet Coast Rising Tide Baltic Porter collaboration release party. Several beers from both breweries will be on tap, including their IPAs ran through special ingredients in the new Peaks & Pints Coleman Coolernator. Special gift will be wrapped under the tree for winning raffle tickets. Bring canned food for the Hoppy Holidays Food Drive.
>>> End the night dressed as Poseidon, God of the Sea, jigging for squid from The Les Davis Pier.
The Beer Aquatic with 7 Seas and Wet Coast — Rising Tide Baltic Porter Release Party, 5-8 p.m. Thursday, Dec. 23, Peaks & Pints, 3816 N. 26th St., Basecamp Proctor, Tacoma, 253.328.5621