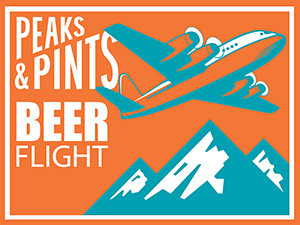 Craft beer is best fresh. If you drink a fresh hop IPA the day it is bottled or canned, it will be at its peak. Never again will it taste so good. Day by day, by degrees, its lushness will fade. Beer, unlike vinegar and Pop Tarts, is not a fixed food product. So why then do brewers barrel-age beer? Because it's porous, wood allows for very slow oxidation, which can make darker, malty beers more complex. Wood can also host microflora, bacteria that add the sourness to wild ales and lambics. The barrel's former resident — the wine or whiskey or whatever that first made its home there — is also important. As a tenant, bourbon leaves the place smelling like vanilla, as does Cabernet Sauvignon, though to a lesser extent. Rum barrels soak up all that yummy, distilled sugar cane goodness for an aroma that is pure dark rum and flavor laced with sweet vanilla and spice notes. Today is National Barrel-Aged Beer Day. Therefore, we'll celebrate the day with the to-go barrel-aged beer flight, Peaks and Pints Pilot Program: Barrel Aged On The Fly.
Peaks and Pints Pilot Program: Barrel Aged On The Fly
Sierra Nevada Trip in the Woods: Tequila Barrel Aged Otra Vez
6.4% ABV, 9 IBU
As a tenant, tequila is polarizing. Bourbon has notes such as caramel, vanilla, sweet, and a little oak. That's all pleasant. But tequila might taste medicinal or like a dill pickle. Even with good tequilas, there is no mistaking that flavor. That is tequila! Sierra Nevada Brewing Trip in the Woods: Tequila Barrel Aged Otra Vez is the brewery's Otra Vez gose aged in reposado tequila oak barrels with lime and agave. Tequila becomes lost in this Woods. Tilt the 750ml bottle into a tulip glass for aromas of sweet agave, wood, lime and light sour. Taste is everything you could want out of this beer: light, flavorful, simple, and yet still somehow dynamic. A mild tart sourness opens that melts into sweet agave with hints of fading lime pucker, vanilla and oak. It finishes in a barely malt with light tequila making this well rounded, refreshing, and delicious without tequila removing the trail markers.
E9 Mano-A-Mano
6.5% ABV
E9 Brewing Head Brewer Shane Johns has been brewing award-winning sours and saisons since he was crammed into the back of Engine House No. 9 next to Tacoma's Sixth Avenue. Today, he brews even more award-winning beers, but now in a state-of-the-art facility with wood and stainless vessels, foudres, and a warming room in Tacoma's Historic Brewery District. His Mano-Mano (the beer formerly known as The Duel) is a fruited mixed culture sour ale brewed with Belgian pilsner malt, Belgian pale malt, wheat, and a barrel-aged blend of a base beer fermented with Brettanomyces, Saccharomyces, and Lactobacullus. After blending barrels, it's aged on whole fruit Bing cherries grown by Diamondback Acres in Chelan and red raspberries grown by Sterino Farms in the Puyallup Valley.
Varietal Transmutator
9.6% ABV
Doppelbocks are extra strong, rich and weighty lagers characterized by an intense malty sweetness with a note of hop bitterness to balance the sweetness. Varietal Beer fermented their Transmutator doppelbock in stainless and then lagered it in whiskey barrels previously used to age Sovereign of Nockmaar. The rich malt sweetness remained, but with added mild oak character, alcohol heat and a toffee finish.
Silver City Oak-Aged Giant Made of Shadows
11.8% ABV, 20 IBU
Silver City Brewery's The Giant Made of Shadows is awesome delicious; it did grab a bronze medal at the 2015 Washington Beer Awards, after all. But, take that malty dark strong ale in the Belgian style, age it in oak barrels infused with bourbon whiskey and amaretto, and the result is double awesome delicious. No, this isn't a tall tale. The Giant emerged from the shadows rich in dark fruit, caramel and coffee character, with hints of vanilla and almond.
Revision Drenched In Desire
14.75% ABV
Alcohol doesn't simply leech out all the goodness of an oak barrel without leaving something behind. The barrel's wooden staves absorb various qualities and flavors of the alcohol resting within. When beer is aged in a barrel that previously housed a wine or spirit, the beer will take on characteristics of the former resident(s), which, in the case of Revision Brewing's Drenched In Desire, is Woodford Reserve Kentucky straight bourbon whiskey. Aged for 16 months, this rich, luscious imperial stout veers toward the sweeter side of the flavor spectrum with deep chocolate, caramel, and toffee undertones.
---