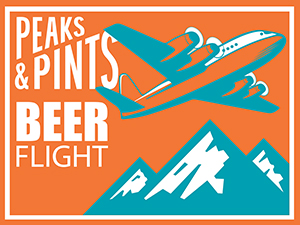 When it comes to Memorial Day you probably want to tackle everything grilled, charring each ingredient you use for maximum smoky flavor after a spring season of eating barely-cooked fresh young green things. Barbecue is, after all, the only truly American culinary technique. No foppish French sautés for you. You're a red-blooded American and you like your meat smoked, cooked long and slow until it's tender enough to be cut with a sharp glance. Barbecue is serious stuff. The pit. The fuel. The right cut of meat for ribs. The flavorings. Today, Peaks and Pints offers a to-go flight specifically for outdoor barbecuing. Stop by our craft beer bar/bottle shop/restaurant in Tacoma's Proctor District and grab Peaks and Pints Pilot Program: Barbecue Beer On The Fly.
Peaks and Pints Pilot Program: Barbecue Beer On The Fly
Well 80 Original Lager Year '64
4.2% ABV, 16 IBU
First, you'll need a lager to enjoy while cooking. Downtown Olympia is home to 96 artisan wells, and Chris Knudson's business just happens to occupy No. 80. Knudson open Well 80 Brewhouse — a brewery, bar, and all-ages restaurant — in the spring of 2018. Well 80 head brewer Paul Pearson, previously of Fish Brewing Co., brews beer using well 80 artisan water, including his Original Lager Year '64 — the American light lager that put Olympia Brewing on the map. The Original Lager '64 is slightly more flavorful than its predecessor, but remains balanced, refreshing and drinkable.
Ayinger Altbairisch Dunkel
5% ABV, 21 IBU
The German-style dunkel is a bottom-fermented lager style beer. The word "dunkel" is German for "dark," and this dark beer style offers beer lovers balanced flavors of chocolate, bread crust and caramel. Comprised of mostly Munich malt, the German dunkel's caramelized malt experience is the product of a chemical process known as the Maillard reaction — the chemical reaction which occurs between amino acids and reducing sugars in the presence of heat that results the browning of food while forming new aromas and flavors. This reaction is what lends Munich malt its distinctive bread crust flavor. While barley malt is kilned, the malt browns, creating a myriad of caramelized flavors. Browned proteins, like barbecued meats and oven-browned bread, both benefit from the Maillard reaction. Keep this in mind when you are pairing these types of foods with beers since dishes that showcase flavors derived from the Maillard reaction complement each other very well. Ayinger Altbairisch Dunkel is a great choice with its impenetrably dark and golden-brown gleam, warm aroma and malty taste, while summoning up coffee taste sensations on the finish.
De Dolle Brouwers Dulle Teve
10% ABV
Fatty beef, like those cuts of meat traditionally found rotating for hours over a barbecue spit in Texas, hold up against the strong flavors of this spicy tripel. De Dolle Brouwers Dulle Teve is brewed in the tradition of a Belgian tripel. Its high-density stems from large amounts of pale malt increased with pale candi sugar in the brew kettle. Combined with a great balance of bready Belgian yeast, caramel undertones, and a hint of sweet fruitiness, these balance the flavors in the meat very well.
Block 15 ESB
5.5% ABV
ESB (or Extra Special Bitter), a staple of the British drinking scene, is not bitter in the sense of IPAs, but instead has grassy or earthy bitterness that accentuates the malts instead of hogging the flavor spotlight. The flavors from barbecued meat enrich the caramel flavors from the beer style, thus bringing together an experience that is better than just enjoying each individually. Block 15 Brewing's ESB is an "extra special" variation on a classic English bitter highlighting a perfect harmony of imported English malts and hops. True to the tradition of English pub beers, this classic style balances complex malt notes of toasted nuts, caramel, and honey with gentle hop bitterness and a crisp water profile that lifts these complex flavors right off your palate from one refreshing sip to the next.
Ruse Grizzly Menace
7.7% ABV
Considered a medium body beer, but one that won't overpower the meat, porter are a perfect pairing for barbecue. The smokiness and roasted malt flavors balance the flavors of the meat, while sometimes even adding a hint of toasted chocolate or coffee flavors, as in the case for Ruse Brewing's Grizzly Menace. The Robust porter is conditioned on Portland coffee roaster Coava cold brew for a silky dark chocolate character, with hints smoke and dark fruit.
LINK: Peaks & Pints cooler inventory
---