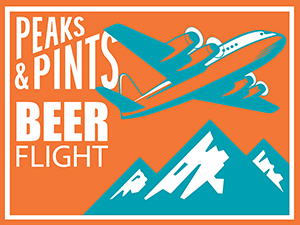 When we asked Peaks & Pints Nerd Alert Director Mitchell Lovett to pick a to-go beer flight of video game beers he sprinted to the cooler and started typing the beer names into his Pokédex. The arcades we knew were overrun with burnouts, jeans tucked into their high-tops. Back then; we'd seek out the cigarette-charred console of Elevator Action. Nothing flashy — you played an agent whose goal was to weave through a building grabbing secrets from behind red doors. You dodged, shot or kicked spies and rode the elevator to your getaway car in the basement. The colors were dull, and movement was a bit mechanical. Today, Lovett's arcades are filled with fifth-level demigods and dorky hoodrats playing virtual anything. Anyhoo, with the arrival of Hoof Hearted Brewing's Konkey Dong double IPA comes Lovett's to-go flight, Peaks and Pints Pilot Program: Arcade Beers On The Fly.
Peaks and Pints Pilot Program: Arcade Beers On The Fly
E9 Adventures of Zelda
5.7% ABV
E9 Brewing's barrel aged sasion, brewed and named after head brewer Shane Johns' second daughter, Zelda, was originally brewed with fresh hops grown around the city of Tacoma in September 2018. It went into barrel after stainless primary fermentation where it sat for 14 months while Johns, E9 brewer Donovan Stewart and bar manager Todd McLaughlin played the video game, The Legend of Zelda. The barrel-aged saison now sits in the Peaks & Pints cooler with lots of body and tons of cool peach-lemon aromatics, blended with a slight tartness as it rolls back over the tongue.
Modern Times-Stone Wizards & Gargoyles Hazy Coffee IPA
7% ABV, 51 IBU
First, the Modern Times and Stone Brewing Wizards & Gargoyles Hazy Coffee IPA can looks like a 8-bit video game with color palettes from '80s arcades. If re-mastered in modern day technology, one might actually see the wizards and gargoyles atop the castle towers. But alas, the 80s left us with much to be imagined. So imagine, we shall. Centennial, Cashmere, Citra and Azacca hops are joined by two in-development hops. Altogether, these yield juicy notes of tropical citrus that play beautifully with the robust flavors and aromas of the coffee. The Modern Times blend of Ethiopia Dame Dabaye and Guatemala Huehuetenango features bright blueberry and melon character underscored by decadent notes of toffee and dark chocolate.
Rogue Dead Guy Ale
6.8% ABV, 40 IBU
Rogue Ales' proprietary Pacman Yeast Strain is alcohol tolerant, flocculent, attenuates well and will produce beers with little to no diacetyl. It's very mild fruit complements a dry, mineral finish making this a fairly neutral strain. Pacman's flavor profile and performance makes it a great choice for use in many different beer styles, including Rogue's Dead Guy Ale maibock. The addition of Pearl and Sterling hops makes for a robust take on the classic German beer. Although the beer's missing the style's bread crust, the present flavors are harmonious: Bread with toasted edges runs over the tongue before orange notes pop up. Hefty bitterness chases the swallow while peppery alcohol prickles the sip front to back. Plus, you know, Pac-Man was a dead guy.
Level Beer Low Resolution
6.7% ABV
Forty years ago today, Toru Iwatani helped himself to a slice of pizza and looked down at the rest of the pie. What he saw inspired one of the world's most recognized video games: Pac-Man, first released in by Namco in Japan on May 22, 1980. Like many other games of its time, Iwatani's intention was to make Pac-Man into an infinite play game. Unfortunately, an error caused Pac-Man to be unplayable beyond the 255th level. It is possible to attempt to complete 256th screen, but gamers would only be able to pass this stage with sheer luck rather than skill. Pac-Man's screen resolution is 224 x 288 for a total board size of 28 x 36 tiles, though most of these are not accessible to Pac-Man or the ghosts. That about cover why Level Beer Co.'s Low Resolution Hazy IPA is on this to-go flight. The beer is big, juicy, tropical and will fill your glass with citrus hop flavors and aromas. The resolution might be terrible, but the flavor isn't. 
Hoof Hearted Konkey Dong
8% ABV, 70 IBU
Trevor Williams and Jarrod Bichon opened Hoof Hearted Brewing in Marengo, northwest a bit from Columbus in the middle of nowhere. The wine salesman and welder, respectively, met at Ohio State University in 1995 and basically drank craft beer across the nation. Inspired by Donkey Kong, and brewed in collaboration with Arcade Super Awesome, Konkey Dong is fermented in Donkey Kong barrels and excessively dry hopped with Galaxy, Simcoe, and Dr. Rudi Hops from New Zealand for a dank and juicy hazy IPA.
---