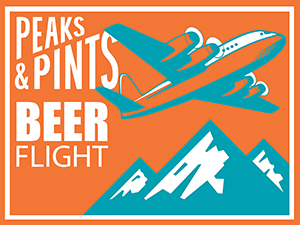 Today's beer flight is dedicated to anniversaries. Anniversaries can mean anything, really: revelry, remembrance, regret. It is marked by homages of love and resolve, of faith and friendship. In celebrations of weddings or births, college graduations or even death, they are our annual reminders of what to be thankful for, what we have lost, or what we have gained. In craft beer, anniversaries address the passing of time between the brewery's founding and the present, and is often a celebration that touches the hallmarks of all such celebrations: On a significant date, a special beer is released (and often bottled and distributed); There's an inspiration to reflect or brew something out of the ordinary, which Peaks & Pints focuses on for today's to-go beer flight, Peaks and Pints Pilot Program: Anniversary Beers On The Fly. Pro tip: No one gives brewers "paper" on their brewery's first anniversary. Giving "cotton" on the second anniversary would be strange. If memory serves correctly, giving ELO's Out of the Blue Double LP Gatefold (Blue Vinyl) on a 15th anniversary is tradition, but weird in the beer world. It's time for birthday beers!
Peaks and Pints Pilot Program: Anniversary Beers On The Fly
Matchless 6th Anniversary Blend
12.6% ABV
Who opens with a 30-barrel system? Matchless Brewing Co. in Tumwater, Washington, did. Award-winning brewmaster Patrick Jansen — who helped lead Three Magnets Brewing Co. to prominence with Grant Bolt, a bar manager at Three Mags. Jansen and Bolt began producing beer in March 2016 and in November sold their first beer. They outgrew their first space, moved to the space next door, and quickly built a reputation for its wide variety of top-notch beers. Matchless Brewing has learned a lot in the six years of making beers in Tumwater. But they still can't decide between bourbon barrel-aged barleywine and whiskey barrel-aged imperial stout. Therefore, they blended them together in a unique, once-in-a-lifetime experience with notes of fig, vanilla, coconut, and oak.
Bombastic 5th Anniversary
12.5% ABV
Phil Hottenstein, a railroad engineer, and Russell Mann, former owner of the Enoteca wine and beer shop in Post Falls, Idaho, and Matt Skillicorn, a mechanical engineer and homebrewer opened Bombastic Brewing after Mann sold the store. The brewery began on a half-barrel (15-gallon) pilot brewing system at the Panhandle Area Business Council incubator near the Hayden, Idaho airport. Their 5th Anniversary beer is an imperial stout aged in Martinique Rhum, Nevada Bourbon, and Kentucky Bourbon barrels for more than a year, then blended for a Russian imperial stout meets Belgian quad meets deliciousness.
Kulshan James Street IPA
7% ABV, 70 IBU
Since opening their doors in 2012, Kulshan Brewing Company has been brewing true-to-style, award-winning ales and lagers in Bellingham with great success. Just a few short years after opening their Sunnyland neighborhood location, they opened a 30-barrel production brewery in response to an overwhelming demand for more beer. With a cool can design featuring the original cat for their Bastard Kat IPA and named after the street where their original Sunnyland neighborhood brewery sits, James Street IPA is the first release in Kulshan's three-part anniversary series celebrating their upcoming 10th anniversary! Balanced and playful, this classic West Coast IPA pays tribute to Bastard Kat; the beer that has played such a defining role in the success and growth of this brewery. Slightly biting hop bitterness blends with smooth bready malt notes, and is accented by big citrus hop character, along with floral and orchard fruit accents.
Grains of Wrath Spoils of War
10.5% ABV
Grains of Wrath Brewery celebrates the fourth anniversary of their Camas, Washington brewery this month, 14 months after their opened their Portland brewhouse. With a 10-barrel system in Camas and a 15-barrel steam system in Portland, Grains of Wrath is poised to produce 3,000 barrels in 2022. The brewery already has racked up 26 honors for its beers, with the first one coming just three months after the company began brewing. Their fourth anniversary beer Spoils of War triple IPA offers flavors and aromas of passionfruit, resinous pine, bright citrus, and lemon.
LINK: Peaks & Pints cooler inventory
---