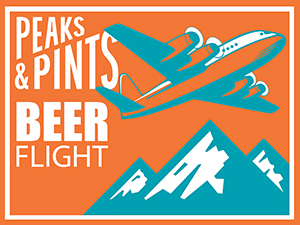 The Seattle Mariners beat the Toronto Blue Jays yesterday in the first game of their American League wild-card series. Game 2's first pitch is scheduled for 1:07 p.m. today with Seattle pitcher Robbie Ray on the mound with a 12-12 record and a 3.71 ERA this year. Ray won the Cy Young Award as the AL's best pitcher while playing for the Blue Jays in 2021. He faces Kevin Gausman, who earned a 12-10 regular-season record with a 3.35 earned-run average. Peaks & Pints will have the game on paired with our second to the last day of our Fresh Hoptoberfest on tap, which means you're guaranteed at least two Oktoberfest beers and two fresh hops. If you prefer your butt on your couch, grab our special American League Wild Card to-go flight featuring Seattle and Canadian beers — a flight we're calling Peaks and Pints Pilot Program: American League Wild Card Beer Flight.
Peaks and Pints Pilot Program: American League Wild Card Beer Flight
Fast Fashion Feedback Loop
6.8% ABV
In 2018, Matt Storm, owner of The Masonary, and the man known for his intensely curated beer list and wood-fired pizza, hooked up with East Coast gypsy brewer Brian Strumke and his Stillwater Artisanal Ales to open the Seattle-based Fast Fashion brewery. The duo began brewing a series of small batch beers paired with a smart, fashionable Instagram account. Fast Fashion became its own fashion tribe of line-out-the-door beer culture. Their Feedback Loop IPA is brewed and double dry hopped with 100 percent Motueka hops for notes of citrus — especially orange and lime, plus grassy piney dankness.
Fast Fashion Elegia
6.9% ABV
Fast Fashion's Elegia is a modernish West Coast IPA brewed with entirely Weyermann Pils malt and hopped with Citra, Simcoe, and Strata for notes of citrus, mixed berry, and pine.
Unibroue Trois Pistoles
9% ABV, 16 IBU

Unibroue founders André Dion and Serge Racine took beer brewing techniques used by Belgian Trappist monks and brought them to North America. After acquiring La Brasserie Massawippi brewery in Lennoxville, Quebec in 1990, the Quebec team brewed their first abbey ale. A few years later, they were shipping their beer internationally. Even after Sleeman purchased Unibroue in 2004, and subsequently by Sapporo in 2006, Unibroue has maintained the culture and flavor of a craft brewery. This Belgian style dark strong ale pours soft brown in color, milder than its name would suggest. Then you bring it to your nose — bam! The first blow arrives with the brown sugar smell. Pow! The second shot, a coffee bitterness. Boom! A sip of the beer packs a final punch with an alcoholic taste, balanced with a nutty sweetness, roasted malt, ripe fruit, and dark spices with a smooth finish like an old port wine.
Unibroue Fin du Monde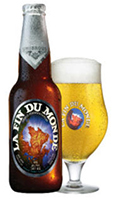 9% ABV, 19 IBUs
The name translates as "The End of The World." If this beer is any indication of the end of the world, bring on the apocalypse! This beer reminds us of the beach with the golden orange color providing the sunset, the pineapple and nut aromas giving it a tropical nose, and the strong alcoholic taste, followed by sweetness, completes the sense of drinking on the beach, minus the cocktail and the mini umbrella. Even with its tropical vibes, La Fin du Monde upholds its light Belgian character.
LINK: Peaks & Pints cooler inventory
---