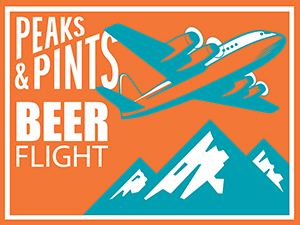 The top-rated beer in the world, according to BeerAdvocate, is the Toppling Goliath Kentucky Brunch Brand Stout. Peaks & Pints doesn't carry it. Doesn't matter the barrel-aged coffee stout is only released about once a year, 300 to 400 bottles at a time, and straight from the brewery in Decorah, Iowa. Toppling Goliath isn't registered to do business in Washington state. In fact, most of the 250 beers Beer Advocate ranks as best aren't distributed in our state. BeerAdvocate — an independent community of enthusiasts and professionals dedicated to supporting and promoting better beer, and recently bought by online beer ranking app, Untappd — is widely considered the go-to website for beer and the benchmark for beer reviews and ratings due to their focus on quality, integrity, and respect. Since it's American Craft Beer Week, Peaks & Pints offers a to-go flight of five American-brewed beers ranked in BA's Top 250, a flight we call Peaks and Pints Pilot Program: American Craft Beer Week Top Beers.
Peaks and Pints Pilot Program: American Craft Beer Week Top Beers
Logsdon Peche 'n Brett
10% ABV
The famous Logsdon Farmhouse Ales Peche 'n Brett sits on BeerAdvocate's Top 250 Beers and Peaks & Pints' cooler. This is incredibly dry in execution at the outset and just before a Brett bomb explodes Logsdon cuts the peach wire and the palate is saved. Their seasonal oak aged organic peach beer is brewed with local Oregon fruit and refermented with the peaches in their Seizoen Bretta. One and a half pound of peaches are added to each gallon of Bretta to produce a secondary fermentation resulting in complex peach aroma and flavor, hop balance and subtle malt character, followed up with Brettanomyces and oak derived fruity dryness. Final refermentation with pear juice provides natural carbonation with added aromas and flavors in the bottle. The fruit is not the main character but it imparts a sort of unity to the beer what with all the juicy juice, musk, biscuit malt, hay, and peach yogurt.
Founders Breakfast Stout
8.3% ABV, 60 IBU
One day, Founders Brewing awoke early and brew this stout with flaked oats, chocolate, and two kinds of coffee beans. This imperial oatmeal stout pours jet-black with a thick, tan head that strongly resembles latte foam. In fact, coffee really shines through in this beer, giving off a strong aroma of fresh roasted beans, caramel and roasted malt. If you like your coffee black and your beer before noon, this is the perfect way to start the day.
Founders Kentucky Breakfast Stout
11.8% ABV, 70 IBU
In 2002, Founders wanted to age their double chocolate, coffee and oatmeal Breakfast Stout in bourbon barrels. A call to Jack Daniels with a request to use their barrels was accepted as long as they picked them up. The first run was a success. Something magical happened in the barrel. The recipe needed refinement since the bourbon notes were overwhelming in the beer. The solution was to create an imperial (higher alcohol content) version of Breakfast Stout. The result is Kentucky Breakfast Stout, or KBS. Thick, full-bodied, it leads with rich and chocolate, boozy warmth and a slight brandy sweetness. It finishes with toasty smokiness and all the depth of a four-tier chocolate cake.
Deschutes 2018 The Abyss
11% ABV, 74 IBU
The 13th edition of Deschutes Brewery's  The Abyss made its official debut Nov. 10, 2018. That year's The Abyss is a deep, dark imperial stout that uses Pale, Black, Chocolate, Black Barley, Roasted Barley, and Wheat malts alongside Millennium, Nugget, Styrian, and German Northern Brewer hops. The beer also incorporates blackstrap molasses, brewer's licorice, vanilla beans, and cherry bark, before it's aged for 12 months in bourbon, new Oregon oak barrels for flavors of coffee, molasses, plum, hint of licorice and a little boozy chocolate. 
Perennial 2019 Abraxas
11.5% AVB
Abraxas is Perennial Artisan Ales' Prodigal imperial oatmeal milk stout brewed with cacao nibs, ancho chiles, vanilla beans and cinnamon. Abraxas is brewed only once a year in a very small quantity and is in such high demand that on release day, beer devotees stand in line for hours just to get their hands on a bottle. The imperial stout is so black and viscous it almost absorbs all the light in the room, but you could find it by its tantalizing chocolaty, spicy aroma. It tastes mainly of cocoa and cinnamon with a touch of spiciness from the ancho chiles.
---