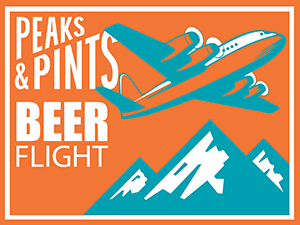 Down south over yonder hills, just outside Eugene, Oregon, Alesong Brewing & Blending focuses almost exclusively on small batches of oak-aged and Belgian-inspired brews since it first began producing beer in early 2016. Alesong has stood out among the crowd with its blending and barrel-aging techniques. In fact, in its first 18 months of business, Alesong's small batch, barrel-aged blends received more accolades than some breweries will see in their lifetime. Just two months after opening, it won gold at the Great American Beer Festival awards for their dry-hopped farmhouse ale, Touch of Brett. The brewery typically releases four beers every quarter, made with seasonal ingredients. Since Peaks & Pints just received their Gose Añejo sour and Kentucky Kilt Scotch ale, we thought no better time to suggest a to-go flight of Alesong beers. Peaks and Pints Pilot Program: Alesong Beer Flight is on!
Peaks and Pints Pilot Program: Alesong Beer Flight
Alesong Gose Añejo
7.7% ABV
Inspired by the classic margarita, Gose Añejo starts as a tart, gose-style ale brewed with lime and sea salt and then aged in freshly emptied extra añejo tequila barrels to contribute an earthy and smoky depth. Finished on lime and orange peels, this sour is complex and refreshing.
Alesong Raindrops on Roses
8.7% ABV
This rosé-inspired farmhouse ale underwent a second fermentation on 2019 Willamette Valley Pinot Noir grapes, has notes of ripe cherries and delicate rose petals, and offers mild acidity intertwining with a soft berry sweetness.
Alesong Kentucky Kilt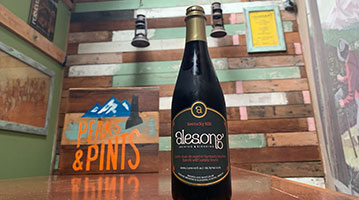 12.5% ABV
Kentucky Kilt is a malty, deep amber-colored, Scotch-style ale that is matured for nearly a year in Heaven Hill Kentucky bourbon barrels. A subtle final addition of vanilla beans at blending accents the barrel-induced aromas of bourbon and oak, while hints of ripe fruit and toffee round out this unique and complex barrel-aged blend.
LINK: Peaks & Pints cooler inventory
---