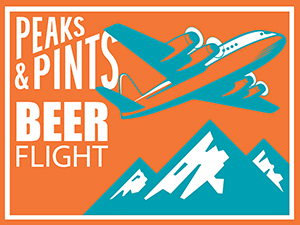 There's no shortage of things you can do to celebrate 4/20, like, say, visiting numerous dispensaries and buying copious amounts of deeply discounted cannabis and cannabis products, and then, you know, consuming them, perhaps in a Mrs. Butterworth's bong or Cheech & Chong joint. Hey, so long as you consume responsibly and don't drive afterward, of course. But there are things happening on 4/20 that are a bit more, shall we craft beer oriented, such as drinking beers that are "dank," a term that means pungent, funky and odoriferous, to both good weed and very hoppy IPAs. Dank means an extremely overpowering odor that can smell like the citrus and pine flavors everyone loves. Dank beers are ones that can easily fill a room with its odor, just like dank marijuana. After all, beer hops and weed nugs are similar in taste and smell, and the characteristics of a particularly dank, hoppy beer can often be found in a jar of particularly dank, primo weed. Or so we're told. Hops and marijuana both contain terpenoids, compounds that give the plants similar characteristics. In fact, both fall into the taxonomic family Cannabaceae, so it follows that you could create a fairly stinky beer with the right treatment of the right hops. Hops don't get you high, but in smell, taste and appearance, they often feel just about as … dank. Enjoy our to-go flight, Peaks and Pints Pilot Program 4/20 On The Fly.
Peaks and Pints Pilot Program 4/20 On The Fly
Block 15 Sticky Hands
8.1% ABV, 100 IBU
Block 15 Brewing Sticky Hands double IPA battles Barley Brown's Forklift double IPA in the Peaks and Pints Tournament of Beer: NW Doubled IPAs. Sticky Hands is a "Hop Experience Ale" featuring ample additions of sticky, resinous, lupulin packed hop buds grown in the Pacific Northwest. Sticky Hands begins with an aromatic blast of tropical fruits, citrus and dank herb; transitions into luscious hop flavor; and ends with a balanced bitter finish, gently propped up by pale malted barley and fermented with Block 15's privately banked Brewers yeast.
Old Schoolhouse Kief Box
8.5% ABV, 70 IBU
Yesterday, Old Schoolhouse Kief Box squeaked out a win against Sumerian Brewing's Hopruption for a seat in the Sweet 16 of the Peaks and Pints Tournament of Beer: NW Double IPAs. A collaborative brew between Old Schoolhouse Brewery and Yakima Chief-Hop Union, this dank West Coast style double IPA is brewed with massive amounts of Simcoe, Citra, and Mosaic cryo hops, It may be hazy, but this is not a New England-style IPA. It's a very dank and weed-like West Coast IPA that just happens to be hazy, and hoppy.
The Hop Concept Dank & Sticky IPA
8.5% ABV
The inaugural beer of The Hop Concept brand, this IPA is crafted to convey the adjectives comprising its name, the beer is hopped with tons of Cs — Cascade, Centennial, Chinook, Comet, and CTZ (a Columbus, Topaz, Zeus hybrid) — as well as Amarillo, Mosaic, Simcoe, and the super sexy-sounding Experimental 05256. Those last ones have made a splash and are said to bring on notes of pine, mint and stone fruit. All of that are apparent, along with the herbaceous little sumpin' that earns the beer its "dank" descriptor. Melon is also pronounced at first sip, as is a sharp, almost peppery spike giving way to a resiny finish that goes for miles. As the beer warms up, a caramel sweetness plus notes of peaches and persimmons join the party.
Gigantic Stretchin' Out
7.6% ABV
When cannabis plants start to mature, they also go through a brief transitional period; a sort of cannabis-puberty if you will. And just as humans undergo a burst of rapid growth, cannabis plants will also create a large portion of their final height in a very short period of time. This explosion of vertical grow this commonly called the cannabis "Flowering Stretch." Gigantic Brewing and E9 Brewing stretch together on Stretchin' Out, a dank, slightly sweet West Coast double IPA with pine and an herbaceous finish.
LINK: Peaks & Pints cooler inventory
---