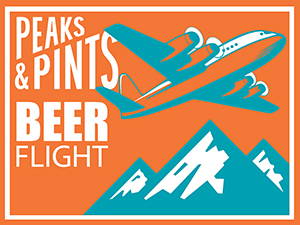 The Brewers Association awarded 272 medals to 240 breweries across the country during the 2020 Great American Beer Festival competition awards ceremony. The best beers in 91 beer categories covering 170 different beer styles (including all subcategories) were awarded gold, silver, and bronze medals during a virtual ceremony hosted on The Brewing Network. Judges for the 34th edition of the celebrated competition evaluated 8,806 entries from 1,720 breweries from all 50 states plus Washington, D.C. Socially distanced judging took place in 35 sessions over 18 days with strict safety measures in place. The awards ceremony was held virtually Friday evening, kicking off the two-day online programming portion of the Great American Beer Festival. Today, Peaks & Pints offers a to-go flight of GABF 2020 winners — Peaks and Pints Pilot Program: 2020 GABF Winners On the Fly.
Peaks and Pints Pilot Program: 2020 GABF Winners On the Fly
Kulshan Helles German-Style Lager
5% ABV, 15 IBU
Kulshan Brewing grabbed bronze in the 2020 GABF Awards Category 41: Munich-Style Helles for their Helles German-Style Lager. Kulshan Helles has a light bready sweetness from the pilsner malt that gives it a solid backbone while the Hallertau Mittelfrüh lend herbal aroma, slight floral and herbal flavor, and spicy dryness. Overall, it's nicely balanced, flavorful, clean and crisp.
Boulevard Tank 7 Farmhouse Ale
8.5% ABV, 38 IBU
Boulevard Brewing grabbed gold in the 2020 GABF Awards Category 21: American-Belgo-Style Ale for their Tank 7 Farmhouse Ale. Tank 7 is a liquid masterpiece. Black pepper and orange zest are set on a backbone of cracker and Italian bread crust malt flavors. Citrus and fruit notes derive from both the yeast and the hops. Fully attenuated, this beer has very little residual sugars remaining and thus allows the beer to finish very dry and clean. 
Bale Breaker Hazy L IPA
6.2% ABV, 40 IBU
Bale Breaker Brewing grabbed silver in the 2020 GABF Awards Category 54: Juicy or Hazy Pale Ale. Named after the Bale Breaker's great-grandparents B.T. and Leota Mae Loftus' cattle brand, "Lazy L," this hazy is brewed with Citra, Sabro, and Mosaic hops grown by BT Loftus Ranches. Expect notes of Piña Colada, grapefruit juice, lemon squares, and strawberry candy.
Three Creeks Crowdpleaser
7.3% ABV, 75 IBU
Three Creeks Brewing, which sits in Sisters, Oregon, on the McKenzie-Bend Highway between Bend and Salem, won Brewing Group of the Year at the 2020 Great American Beer Festival, the highest accolade a production brewery can receive in an American-based competition. Founded in 2008 in a barnlike building on the FivePine Lodge campus in sisters, it's only appropriate that we place the breweries flagship IPA, Crowdpleaser, in this award-winning flight. The IPA sports a simple malt bill that showcases Mosaic and Sorachi Ace hops for heavy resinous, pine and citrus flavors.
LINK: 2020 Great American Beer Festival Awards winners
LINK: Past Peaks & Pints award-winning flights
---