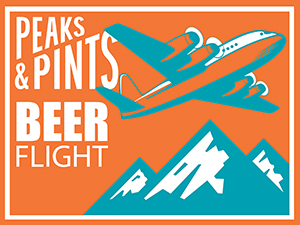 In October 2008, Brian Ewing launched 12 Percent Imports selling imported beer to New York out of his Toyota Prius. The first beer he imported was Gaverhopke Extra, a 12 percent Belgian ale, thus the name of his distributing company. Ewing began distributing an unusually heavy roster of gypsy brewers and contract brewed beer such as American Solera from Tulsa and Fat Orange Cat Brew Co. from East Hampton, Connecticut. He eventually partnered with Alex Blank to form 12 Percent Beer Project, a contract brewing facility on State Street in North Haven, Connecticut. Many of Ewing and Blank artisan brewery clients don't have a brewing facility or have a tiny brewhouse that can't support large releases. The 12 Percent Beer Project allows such breweries to brew at the State Street brewery. The operation is like an independent record label when Ewing and Blank help their artists create craft beer then promote them through their distributorship. Today, Peaks and Pints presents a to-go beer flight of 12 Percent breweries that we call Peaks and Pints Pilot Program: 12 Percent On The Fly.
Peaks and Pints Pilot Program: 12 Percent On The Fly
Blank A Round On the House
8% ABV
In 1987, Steve Hindy and Tom Potter, ignoring all sane advice from friends, and threats from the mafia, quit their day jobs and paved the way for New York breweries by opening Brooklyn Brewery. They didn't find success until they started their own distribution company, now known as the Craft Brewers Guild, and hired former Manhattan Brewing assistant brewer, Garrett Oliver. Today, there are many craft breweries calling Brooklyn home, including ______ Brewing, or Blank Brewing. Flying under the radar, this Brooklyn-based nano brewery brews delicious beers with 12 Percent Beer Project in New Haven, Connecticut. Blank's A Round On the House is a Cocoa Krispies-inspired imperial milk stout brewed with lactose and cocoa nibs.
Hoof Hearted Mom Jeans
8% ABV, 50 IBU
Trevor Williams and Jarrod Bichon opened Hoof Hearted Brewing in Marengo, northwest a bit from Columbus in the middle of nowhere. The wine salesman and welder, respectively, met at Ohio State University in 1995 and basically drank craft beer across the nation. Their Mom Jeans imperial milk stout is brewed with malted oats and lactose sugar to "insure a creamy, sumptuous, saxually mouth coating flavor. Notes of malted milk chocolate and coffee are delivered as smoothly as if Toto was jamming 'Rosanna' in your mouth."
Timber Fallen Between The Line
7% ABV
The plaid-wearing outdoors enthusiast Jason Stein would leave his Upper West Side apartment in New York City and travel to Long Island to homebrew barrel-aged imperial stouts and barleywines in his parents' garage. Today, he'll brew his Timber Ales in Connecticut on 12 Percent Beer Project's big system. Narrow Gauge Brewing helped Timber brew this hazy IPA dry hopped with Mosaic, Citra and Enigma hops for jammy citrus.
American Solera Palate Jack
6.5% ABV
American Solera's single Sabro hop Palate Jack IPA is bursting with tropical aroma and flavor — so much pineapple and coconut it may leave drinkers thinking about a piña colada. Its bright, crisp, bubbly body accentuates the assertive citrus qualities. In the end there's a subtle soft sweetness of peach and orange. The tropical notes from the Sabro hops make this beer distinctive.
Fat Orange Cat I Don't Like Mondays
7.5% ABV
Fat Orange Cat Brew Co. is a small, seasonal farm brewery in East Hampton, Connecticut, but many of their craft beers, including I Don't Like Mondays IPA. This New England style IPA brewed with Galaxy, Mosaic, and Simcoe perches on light flavors of biscuit, caramel, and toasted malts before springing on strong flavors of juicy orange, pineapple and piney hops, purring with light to moderate amount of lingering bitterness.
---