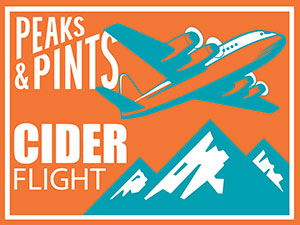 In 1872, Philip Miller planted apple trees in Wenatchee. Twelve years later, the first commercial planting, Peterson orchard, sprouted. In 1893, the Great Northern Railway Company linked Wenatchee with Seattle, and eight years later Seattle said Wenatchee apples were a thing. In 1902, Wenatchee dubbed itself the "Apple Capital of the World". In 1970, Texan farmers Gene and Katie Handley plated Red Delicious and Golden Delicious in their new home of Wenatchee. Times were tough and the Handley children spent summer working the orchards instead of floating on rivers. Gene's father, Harmond Handley also planted orchards in the Wenatchee Valley, which meant more work for young Andy Handley and his siblings. After Andy graduated from college, he left the corporate world and returned home to help the family plant much needed new varieties Gala, Fuji, and others. In 2012, Andy's son Andrew and his bandmates, Matthew and David Dobbins, dabbled in cidermaking. Eventually, they dialed in the cider. Four years later, Handley Orchards added 50 acres of heritage varieties — Dabinett, Porters Perfection, Kingston Black, Yarlington Mill, Muscat de Lense, Snowdrift Crab, and Red Fleshed apples — for cidermaking. A little over a year ago, Andrew and his wife, Katja, left Union Avenue, drove down the hill, waved goodbye to East Wentachee and delivered their Union Hill Cider Company goods to Peaks & Pints. Today, we gathered three of their cider and offer them as our Peaks and Pints Monday Cider Flight: Union Hill Cider.
Peaks and Pints Monday Cider Flight: Union Hill Cider
Union Hill D.J. Dry
7% ABV
The most famous family conflict in American history, the Hatfield-McCoy feud evolved into a mythic American tale of jealousy, rage and revenge — and one which helped create the negative "hillbilly" stereotype that has shaped attitudes towards Appalachia for more than a century. The 32nd most famous family conflict in American history, the D.J.-L.E. feud, evolved into a legitimate American production of dry and sweet cider. Union Hill made two ciders to commemorate the feud. L.E. sweet and D.J. Dry are two sides of the same coin. A union of red and golden delicious apples with Porter's Perfection heirloom English apple — one is sweet and one is dry. Today, we offer the Dry.
Cosmic Rose
7.6% ABV
Classically bred by Washington State University researchers, Cosmic Crisp brand apples are a cross between Enterprise and Honeycrisp. Large, round, crisp and super juicy, these bi-color apples have a rich red that almost sparkles with starburst-like lenticels — which is where the name "Cosmic" originates. It's crunchy; it's extremely juicy; it's extremely sweet and also acidic. Union Hill blended Cosmic with their Red-fleshed apples for their flavorful, semi-sweet Cosmic Rose with a soft, tart finish.
Kingston Black
8.5% ABV
An English cider apple that first appeared in Somerset in the early 19th century, Kingston Black is regarded as the perfect cider apple that is often used to make a single varietal cider. It is classified as a bittersharp with notable spice notes and medium acidity and mild tannins. Easy to press. Union Hill believes "the perfect apple only becomes better by growing in the perfect region: the hot and dry climate of central Washington. This cider is well rounded and enjoyable to the novice as well as the seasoned cider drinker." Union Hill's Kingston Black — made with 100 percent Kingston Black apples and cane sugar — grabbed the "Judges Pick" at the 2020 Cidercraft Awards.
LINK: Peaks & Pints cooler inventory
---