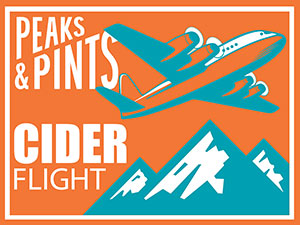 Swift Cider, an urban craft cidery based in Portland, Oregon, is the reincarnation of Outcider, which was originally founded in spring 2012. Founding owner and head small-batch cidermaker Aidan Currie continued to dedicate his life to small batches made with fresh-pressed apples, local ingredients, slow-and-cold fermentation, and wild yeasts when he rebranded as Swift Cider in the Spring of 2014. Swift launched into the Oregon market with three flagship ciders: the Wholesome Apple, the Marionberry, and the Dank Hop. Currie takes pride in making balanced dry ciders, which contrast starkly with the sweeter styles in the market. According to the head cider maker, "you are what you drink," so every effort is made to use wholesome ingredients. Their base cider is made from seven Oregon and Washington grown apples. When blending in additional fruits, hops, and spices, they source minimally processed ingredients and avoid anything that contains concentrate, sugar, preservatives or artificial flavors. Today, Peaks & Pints presents a to-go flight of Swift cider — a flight we call Peaks and Pints Monday Cider Flight: Swift.
Peaks and Pints Monday Cider Flight: Swift
Swift Tropic Haze
5.9% ABV
Inspired by a tropical margarita, this hazy cider requires a gentle stir upside-down before serving to get the whole fruit puree of guava, mango, and passionfruit back into suspension. Swift adds a touch of pink salt to help each of the fruit flavors pop and remind of the classic salted rim.
Swift Pomegranate
6.5% ABV
Swift Cider's namesake, the Vaux's swifts, flock to Portland each harvest season by the thousands to roost inside old brick chimneys on their annual migration. Locals convene on blankets to toast the birds as they dive into one particular chimney at sunset, many toasting with Swift's Pomegranate cider. It's a hard cider blended with fresh pressed pomegranate juice that's tart and fruit forward with mild tannin, medium body, and a clean refreshing finish. For those who want a fruit cider right in the middle of the sweetness scale, this cider delivers the pom punch.
Swift Pineapple Hop
6.7% ABV
Swift renamed their Dank Hop cider as Pineapple Hop as consumers are drawn to ingredients or fruits that they quickly recognize. As the name suggests, Pineapple Hop is a heavily hopped cider that is aged on real whole pineapple chunks. Fruity and dank northwest hop varieties Chinook, Centennial and Ekuanot are adding balance to the sweetness. The semi-dry cider hits the nose with heady aroma of citrus, pine, and dank leading into the tropical flavor of pineapple. It's clean, aromatic and beautifully balanced.
LINK: Peaks & Pints cooler inventory
---