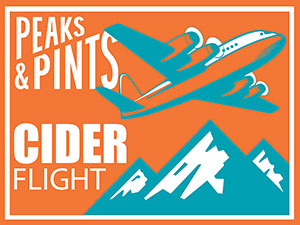 Nearly everyone loves to eat a good strawberry. When strawberries are in season, there is almost nothing as satisfying as walking out into the garden and harvesting a colander full of these sweet, fragrant and beautiful fruits. But, damn you strawberries! You're only fresh during June and July in Washington state. Then, they become ticking time bombs. Within a day you have withered; in three days you are moldy. Still, your flavor lives on from the freezer, or in hard cider. The fresh taste of strawberries, soft and deep red, backed by mouth-watering sweetness and previous alcohol. Today, Peaks and Pints presents a to-go flight of strawberry cider — a flight we call Peaks and Pints Monday Cider Flight: Strawberries.
Peaks and Pints Monday Cider Flight: Strawberries
Ragged and Right Tulip Festival
6.9% ABV
Ragged and Right is the sister cidery of Farmstrong Brewing in Mount Vernon — a proud veteran owned business. Their Tulip Fest Cider starts with a base of Pinata apples from Cedardale Orchards in Mount Vernon and honey from Valley Buzz, then blended with strawberry puree for a cider that is tart and slightly sweet (like the first berries of late spring). "The Tulip Festival Cider was an especially fun cider to make as it gave me a chance to work with blackberry honey, which has a unique flavor. It adds both depth and character to the cider, with just the right flavors to remind us of springtime in the Valley," said Jacob Mitchell, head cidermaker at Ragged and Right Cider via a press release.
Tieton Hazy Strawberry
6.9% ABV
Unfiltered, cloudy-looking ciders are much like the hazy-style IPAs that have been taking the beverage scene by storm. When the step of the cidermaking process that filters these sediments out is yielded, it results in the clouded appearance of an unfiltered cider, fuller mouthfeel, and a richer flavor. Tieton Cider Works naturally unfilters this strawberry cider with a ruby blush color. Sweet strawberry blends with fresh pressed tart cider for a balanced summer sipper.
One Tree Strawberry Kiwi
6.8% ABV
We think One Tree Hard Cider describes their Strawberry Kiwi the best. … "Hey, home skillet! We brought back the 90's cult classic combo strawberry kiwi. This adult "juice box" is da bomb! Pop open a bottle and before you know it you'll be sitting at the cool table. It's a playful mix of sweet strawberry and adventurous kiwi. Don't stress though, we won't make you share. I mean, ugh…AS IF!"
LINK: Peaks & Pints cooler inventory
---