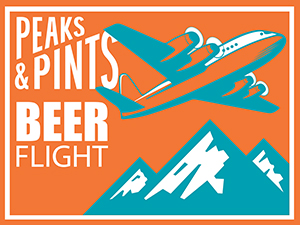 Passionfruit is known as lilikoi in Hawaii. This tart yet sweet fruit is nearly round, approximately 1.5- to 3-inches wide, with a tough outer skin. When ripe, the skin is colored yellow or purple, depending on the variety. Inside, the fruit is filled with juicy pulp and as many as 250 edible seeds. Passionfruit grows on a vine and is at its peak for harvest from June through January. It's ready to eat when it is plump, has a slight give, and is fully colored. In its yellow form, the color is deeply golden and the purple fruits will be nearly black. What many people don't realize is that the uglier and more wrinkled the fruit is on the outside, the sweeter it will be on the inside. The ripest fruits will simply drop off the vine. The simplest way to consume passionfruit is in hard cider. Let's get at it with Peaks and Pints Monday Cider Flight: Passionfruit.
Peaks and Pints Monday Cider Flight: Passionfruit
Incline Passion Guava
6.5% ABV
Since 2015, Incline Cider has made delicious, crushable cider, many from a dry-hopped apple base to pull out citrus aromas. They use 100 percent fresh pressed apples, no added sugar, no carbonated water, and the result are ciders that are balanced, not too sweet and super flavorful. Their new Passion Guava is packed full of real passion fruit and guava puree. A subtle tartness and acidity balance the profile, keeping big fruit flavors front and center without too much sweetness
Schilling Passport Pineapple Passionfruit
6.7% ABV
In 1881, Colin Schilling's great-great-grandfather, August, founded the Schilling Spice Company in San Francisco, with a goal of bringing pure, natural spices to everyone at a fair price. Today, at Schilling Hard Cider, August's core values are carried forward and paired with innovative cider-making techniques to produce quality and complex hard ciders that, according to media hype, is the number on selling craft cider with three taprooms — Auburn, Seattle and a 50-tap cider house in Portland — and retail in 20 states. Think about all that plus the fact that Schilling uses only 100 percent fresh pressed apples, locally sourced non-GMO ingredients, and individually hand-selected yeast strains with beer yeast rather than wine yeast (Schilling likes beer yeast rather than wine yeast for the malt flavor) as you enjoy this unfiltered cider made with juices of fresh pressed apple, pineapple and passionfruit. The nose arrives with huge pineapple and apple — granny smith and pink lady jump — with some lavender, rose petal, ginger, lemon zest and passionfruit. On the tongue, expect ample apple, passionfruit and pineapple sweetness as well as a touch of citrus and sour bite.
Tumalo Prickly Passion
6.9% ABV
The Tumalo Cider House was built from the ground up by its brewer, Kelly Roark, with business partner Jeff Bennet, plus the help of friends and family. Roark has been brewing cider out of his home since 2007 creating a cider that is authentic, distinct and loved amongst the Bend, Oregon community. He started years ago filling up trash cans with free apples he would find growing around town Bend, then pressing them with friends for homebrew apple cider. Today, Tumalo, still in Bend, specializes in small batch, artisan cider with a focus on dry, complex apple profiles. Head Cidermaker Kelly Roark also knows his way around passionfruit too. Prickly Passion brings the nectar of the desert crashing into the subtropical wild regions. The flavors aroused by the prickly pear and passionfruit bring together sweet and tart in perfect harmony.
---