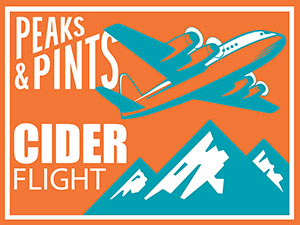 Despite COVID, higher costs, smoke and fires, international wars, and market interruptions, the Northwest cider industry is still thriving. The Northwest continues to be the nation's premier apple producer. Oregon cider makers now number 61 statewide from only about a dozen nine years ago ranking Oregon fifth in the country. Oregon's agricultural underpinnings create a perfect opportunity for close relationships between cider makers and apple orchardists in a state where farm to table and drinking local are deeply held Oregonian values. Half the apples in the United States are grown within 300 miles of Portland. It's Monday, which means Peaks and Pints offers an in-house cider flight. Since we have Oregon on the brain, enjoy Peaks and Pints Monday Cider Flight: Oregon Cider.
Peaks and Pints Monday Cider Flight: Oregon Cider
19 Acres Marionberry
5.6% ABV
Despite its recent opening in October 2022, the family behind 19 Acres Cider Co. has been in the apple business for four generations, running Oregon Heritage Farms in Sherwood, Oregon. Their 19-acre property is tranquil and picturesque, and only 30 minutes from Portland, nestled amongst the vineyards of Willamette Valley. Using northwest marionberries, they blend the berries to make a 100 percent natural marionberry cider. Expect a delicious semi-dry cider that has hints of the summer berry of Oregon.
Avid Pineapple Mango
6% ABV
In 2013, Avid Cider Co. invaded the Bend, Oregon craft beer-crazed town with something different. Back then, they went by ATLAS and quickly gained recognition locally and regionally depicted by their major award display case. AVID became known as a semi-sweet cider company placing their craft between the dry and sweet market. They live and die by their "NW to the Core" slogan sourcing regional fruit pressed in Bend to create "core" ciders and seasonally inspired hits. Their Pineapple Mango cider is on the sweeter side with mango and pineapple complimenting rather than overpowering the sweet apple notes.
Bauman's Guava Grapefruit
6.2% ABV
In 1895, on the West Coast, between Salem and Portland, Bauman Farms was first homesteaded by Elizabeth Bauman and her teenage sons, Stephen and Leo. Stephen eventually married at the cider apples on their Gervais, Oregon, farm, with the barrels in their barn fermenting the goods into hard cider. When beer production arrived with German immigrants, cider's popularity diminished. But it was 20th century Prohibition that ended most U.S. cider production, including Stephen Bauman's operation. The Baumans turned to dessert apple growing. His great granddaughter, Christine Walter, armed with a degree in biochemistry from Lewis & Clark University, revived her great grandfather's hard cider operation, taking advantage of the family farm history spanning five generations, her work ethic growing up on the farm and modern-day cidermaking methods. She opened Bauman's Cider Company in 2016, honoring Stephen Bauman on the cider's branding. Bauman's Guava Grapefruit cider is a delicious blend of their base apple cider, the tropical sweetness of guavas, and the tangy zing of grapefruit infused with pink peppercorns for a little spice.
Double Mountain Little Spy
7.5% ABV
Ancient floods left Hood River with rich mineral soil. Double Mountain Brewery & Cidery owner Matt Swihart knew the rich soil was a thing. He owns Double Mountain Orchards in Hood River. He added state of the art cidermaking equipment to his giant warehouse. He added "Cidery" to his business' name. Double Mountain macerates the finest American heirloom cider apples from the Hood River Valley and allows their juice to rest on the skins and seeds before pressing, producing just a hint of additional tannic character. The pet nat-style cider is fermented slow and low to maximize the fruit's nuanced expression, highlighting notes of citron, Riesling grape, and ripe pear. Carbonation is the result of careful fermentation monitoring and racking accordingly.
RAW Brut Nature
7.5% ABV
During a career in biomedical science and healthcare, Levi Danielson walked away to pursue cidermaking professionally in 2018. After a short stint working for cidermakers in Portland, Oregon, he moved to France for a season to work on an organic farm producing cider. Producing French cider and visiting some of the best cidermakers (and some winemakers) in the world has shaped his perspective and approach to cidermaking. He launched RAW Cider Company in McMinnville, Oregon distributing large format 750ml bottles focused on cider and perry specific fruit, both family farmed and foraged in Oregon and Washington. Danielson practices traditional methods, mostly French, with a contemporary approach to attain clean, balanced, and interesting products. A light-handed approach guided by a solid understanding of biology and chemistry allows him to follow the fruit's fermentation naturally and with little interference. Danielson's Brut Nature is a traditional method sparkling cider made from a blend of Airlie Red and Karmijn de Sonneville apples sourced from family farms in the Willamette Valley and Kings Valley in Oregon. Bottled in May 2021 and disgorged in March 2022, this cider is completely dry with fine silky bubbles.
LINK: Peaks & Pints beer and cider cooler inventory
---