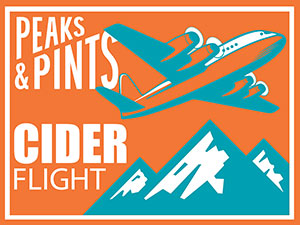 Back in the day, George Washington's troops received rations of it. John Adams reportedly drank a tankard of it for breakfast each morning. Cider apples and their fermented juice were prevalent on American homesteads. Then Americans departed farms for cities, German immigrants introduced beer culture and ultimately Prohibition took a collective axe to cider orchards across the country. It's not surprising that craft cider has taken root in Washington state — a region of wine and craft beer enthusiasts. Washington is the second largest wine producer and has the third highest number of craft breweries in the country. But when it comes to cider, Washington is fourth in the nation, which includes One Tree Hard Cider in Spokane Valley. Grant Barnes and Neal Hennessy started making cider as a hobby, and it turned into a vocation. One Tree Hard Cider started in Barnes' Spokane Valley garage, with exactly one recipe: a relatively straightforward semi-sweet apple cider. They went pro in the summer of 2014. Today, peaks & Pints presents a to-go flight of One Tree cider — a flight we call Peaks and Pints Monday Cider Flight: One Tree.
Peaks and Pints Monday Cider Flight: One Tree
One Tree Staycation
5.6% ABV
in Tacoma can be pretty fun. In a city full of distractions, we often find ourselves wanting to feel alone and surrounded by nothing but quiet. If you can't quite afford to get to the tropics, pop-open a One Tree Staycation for pineapple and mango on the nose and even more in flavor.
One Tree Boysen The Berry
6.8% ABV
Writer/director John Singleton's Boyz n the Hood was a high point in the late 1980s/early 1990s Black filmmaking renaissance. Thirty-plus years on, it is still a hugely absorbing, superbly acted, brilliantly directed piece. In addition, the urgent, compelling message has lost none of its punch and remains depressingly relevant. One Tree's Boyzen The Berry is a hugely absorbing, superbly made, brilliantly cider with apples, boysenberries, pear, pineapple, elderberry, and plum for a sweet, fruity cider.
One Tree Strawberry Kiwi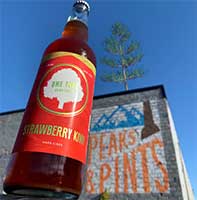 6.8% ABV
We think One Tree describes their Strawberry Kiwi the best. … "Hey, home skillet! We brought back the 90's cult classic combo strawberry kiwi. This adult "juice box" is da bomb! Pop open a bottle and before you know it, you'll be sitting at the cool table. It's a playful mix of sweet strawberry and adventurous kiwi. Don't stress though, we won't make you share. I mean, ugh…AS IF!"
One Tree Pumpkin
6.9% ABV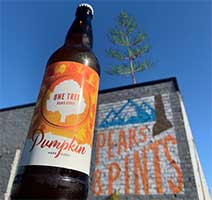 One Tree made their Pumpkin cider with house-roast real pumpkins, the perfect amount of sweetness with organic cane sugar, and finishes with their unique blend of artisan spices.
LINK: Peaks & Pints cooler inventory
---