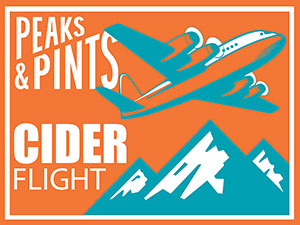 In 2013, Rick Hastings and Austin Dickey opened the first cidery in downtown Spokane, Liberty Ciderworks. From renovated downtown warehouse on Washington Street near the railroad tracks, they had a simple mission: To use apples from local farms and fields to create unique, wonderful ciders, and to share their ciders with friends and neighbors across the great Pacific Northwest. Peaks & Pints is proud to be a part of that mission, as our weekly Monday to-go cider flight depicts: Peaks and Pints Monday Cider Flight: Liberty Ciderworks. Hastings and Dickey made cider in their garages for years before going pro with their traditional, English-inspired artisanal hard cider. Stop by Peaks and make Liberty part of your day. Cheers!
Peaks and Pints Monday Cider Flight: Liberty Ciderworks
Liberty McIntosh
5.7% ABV
While not a major crop of Washington state, McIntosh apples adapt beautifully to the Inland Northwest — specifically, the Palouse region just south of Spokane, where Liberty Ciderworks grabs them for their McIntosh cider. This off-dry cider showcases classic Mac qualities, with aromatics and flavors reminiscent of ripe apples, cream, and honey. It's also a 2019 and 2021 Good Food Awards Winner.
Liberty Raven Oak
7.6% ABV
Liberty's Raven Oak is a blend of United Kingdom cider apples, grown in Eastern Washington. This cider is wild-yeast fermented and barrel-aged in charred in fellow Spokane neighbor Dry Fly Distillery barrels, expressing scents and flavors reminiscent of ripe apple, vanilla, fennel and … wait for it … oak.
LINK: Peaks & Pints cooler inventory
---