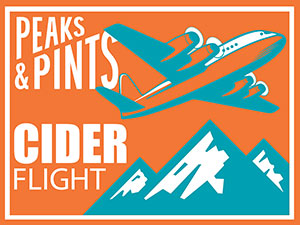 Lavender was originally cultivated in the Mediterranean and spread throughout Europe by the Romans. Romans and Carthaginians were famous for their baths, made more lovely and therapeutic by the addition of lavender to the water. Hence, the derivation of the name lavender, from "lavare," to wash. Some men washed their heads with lavender to ward off diseases or weakness arising from a cold. Others believed lavender would invoke ecstasy and constancy in love. Egyptians, Phoenicians, and Arabians used lavender as a perfume. They also used it for burial. They mummified their dead in lavender-dipped shrouds. Lavender is credited with the beginnings of the perfume industry in France. Sixteenth century glove makers' wares were not only pleasant to smell, but they also helped ward off cholera. As you enjoy Peaks and Pints Monday Cider Flight: Lavender, relish in the fact that you are benefitting from the explorations of humanity from royal to run-of-the-mill. You join the ranks of royalty, the famous and the infamous, as you sip these ciders made with lavender. Let it work its magic on you as it has done for centuries.
Peaks and Pints Monday Cider Flight: Lavender
Finnriver Lavender Black Currant
6.5% ABV
Finnriver Farm & Cidery Lavender Black Currant Cider celebrates the botanical bounty and beauty of the Olympic Peninsula. This refreshing purple-hued sparkling cider features the organic Washington apple fermented and blended with the sweet and tart delights of black currant. Add to that the delicate floral notes of organic Sequim lavender, sourced from Purple Haze farm, and you have an aroma of strong lavender, currant, Concord grape, and honey, followed by lavender, tart currant, grape, and apple flavors. 
Channel Marker Lavender Bergamot
7.2% ABV
Nestled between the lush Cascade Mountains and the salty Puget Sound, the maritime climate and adventurous spirit of Seattle provides the inspiration for Channel Marker cider recipes. And They source, forage, and grow many of our ingredients from around the Sound — their backyard. Their Lavender Bergamot is a tart delight, merging the citrusy essence of bergamot orange, the floral lightness of lavender and the zing of lemon. It's Channel Marker's most tannic cider.
LINK: Peaks & Pints cooler inventory
---