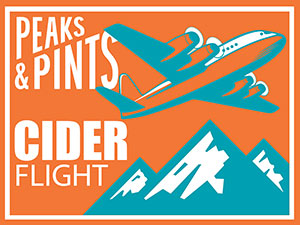 Hard cider, once the prevailing nectar of colonial days past, is having a renaissance. Though it was knocked off the radar in the mid-19th century, the recent interest in craft beer has taken artisanal cider along for the ride. Hard cider is tapping into the beer and wine markets as well as the gluten-free trend, and it is developing an identity of its own. And for hyper-local aficionados, there's no lack of appeal when it comes to regional varieties of apples influencing flavors from batch to batch. Enough chit-chat. Let's get to drinking. Enjoy Peaks and Pints Monday Cider Flight: Flavor Town.
Peaks and Pints Monday Cider Flight: Flavor Town
One Tree Snow Globe
6.6% ABV
Who doesn't love glitter? It's nearly impossible to get out of your cleavage after a night on the town, but it's festive as hell. And now thanks to edible glitter, your digestive system can be as sparkly as your 1990s eye shadow palette. One Tree Hard Cider Snow Globe is a delicious spiced cider with glitter. We recognize the clove and cinnamon, but the glitter seems like a handful rather than a full dance floor dump, which is perfect.
Finnriver Winter Ruby
6.8% ABV
The cider in this year's batch of Finnriver Farm & Cidery Winter Ruby is a blend of high acid golden russet cider grown in an Ashland Oregon orchard, blended with a gentle balance of local Chimacum fruit, aged together with organic Starvation Alley cranberries, a stave or two of toasted oak, and just the lightest touch of organic Mexican vanilla extract. Expect vanilla wood notes with clear fruited undertones on the nose. Brightly tart, cranberry straight away, vanilla to wrap all the senses and the woody astringent oak to keep it all grounded.
Ole Swede Zesty Orange Ginger
6.9% ABV
About a 1,000 people live in Tonasket, a city in Okanogan County, Washington. Lucky them to have Ole Swede Cider in their backyard. Tonasket native Casey Oberg launched Ole Swede Cider on his family farm in 2014. His Zest Orange Ginger is a wild fermented blended cider with additions of fresh oranges and ginger. It's not overpowering, but rather light and refreshing.
Greenwood Whiskey Barrel Asian Pear
7.2% ABV
A year ago this month, home fruit fermenters Marshall Petryni and brothers Andy and Ryan Short opened Greenwood Cider Co. just off of Lake City Way in North Seattle. It went from hobby to 600 gallons a month quick. Their Whiskey Barrel Asian pear is a blend of Chojuro and Mishirasu Asian pears aged for six months in whiskey barrels from the Westland Distillery for an off-dry cider with bold whiskey and oak flavors followed by unripe, earthy, and angular notes from the Asian pears.
---