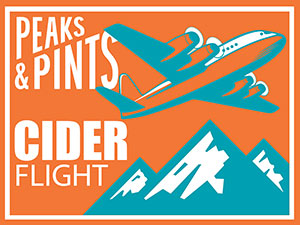 It's not surprising that craft cider has taken root in Washington state — a region of wine and craft beer enthusiasts. Washington is the second largest wine producer and has the second highest number of craft breweries in the country. But when it comes to cider, Washington is fourth in the nation. In 2008, there were maybe four cideries in Washington state; now about 66 dot the state from San Juan Island to Pullman, and even wineries are getting in on the action. Meet seven Eastern Washington state ciders in what we call Peaks and Pints Monday Cider Flight: Eastern Washington.
Peaks and Pints Monday Cider Flight: Eastern Washington
Union Hill D.J. Dry
7% ABV
The most famous family conflict in American history, the Hatfield-McCoy feud evolved into a mythic American tale of jealousy, rage and revenge — and one which helped create the negative "hillbilly" stereotype that has shaped attitudes towards Appalachia for more than a century. The 32nd most famous family conflict in American history, the D.J.-L.E. feud, evolved into a legitimate American production of dry and sweet cider. Union Hill Cider in East Wenatchee made two ciders to commemorate their orchardists grandfathers and their once upon a time feud. L.E. sweet and D.J. Dry are two sides of the same coin. A union of red and golden delicious apples with Porter's Perfection heirloom English apple — one is sweet and one is dry. Today, we offer the Dry.
Independent Lavender Perry
5.5% ABV
Montana State University friends Micah Roberson, Michael Partheymuller and Kramer Christensen opened Independent Cider in the upper Wenatchee Valley near Leavenworth and Cashmere. They produce handcrafter perry — a cider made completely with fermented pear juice as its base — playing up on the natural sweetness and pear flavor in their products. Their Lavender Perry is made with two varieties of lavender harvested down valley from their pear orchards. The blended buds from this mid-summer flower are dried and steeped to contribute subtle lavender notes and flavors.
Yonder Palisades
6.5% ABV
Founded by CEO Caitlin Braam, Head Cidermaker Tim Larsen and Creative Director Maddy Porter, Yonder Cider's taproom is a stone's throw from Seattle's Green Lake and a drive from the orchards and pressing facility in Wenatchee. Their Palisades cider is a blend Fuji, Honeycrisp, Roxbury Russet, Dabinett, various red fleshed apples and Pacific Northwest blackberries, all of which is supported by an herbal hint of sage.
d's Wicked Baked Apple
6.9% ABV
Let's talk Baked Apple, as in Kennewick-based hard cider maker d's Wicked Cider's 2015 U.S. Open Beer Championship gold medal winning creation. The cider company, which is owned by Daniel and Heidi Washam, owners of Sun River Vintners, also in Kennewick, opened shop with Baked Apple, which uses Washington apples to makes its three cider varieties. This off-dry cider hosts the flavors of Red Delicious, Honey Crisp and Granny Smith apples, finishing with a touch of allspice and cinnamon. Think grandma's apple pie without the crust.
Ole Swede Charred 5 Aged With Toasted Applewood
7.5% ABV
About a 1,000 people live in Tonasket, a city in Okanogan County, Washington. Lucky them to have Ole Swede Cider in their backyard. Tonasket native Casey Oberg launched Ole Swede on his family farm in 2014. His Charred 5 Aged with Toasted Applewood is made with Okanogan harvested Golden, Granny, Pink Lady, Honeycrisp and Manchurian Crab apples. Aged with Toasted Apple Wood from the same farms this off dry cider isn't too tart but rather sweet with applewood flavor.
Snowdrift Cap O'Liberty Ashton Bitter Batch #5
7.5% ABV
Snowdrift Cider Company sits in Central Washington near East Wenatchee. The cidery controls its own source of apples, tending an orchard that not only produces dessert apples, but also an array of traditional cider apples including Dabinett, Foxwhelp, Golden Russet, Brown's, Wickson Crab, Calville Blanc d'Hiver, Yarlington Mill and Ashmead's Kernel. Snowdrift Cap O'Liberty Ashton Bitter Batch #5 is part of Snowdrift's Cidermaker's Branch Series made with Cap of Liberty and Ashton Bitter apples.
Tieton Cranberry Cider
6.9% ABV
Tieton has been growing apples in the Yakima Valley for three generations. Craig Campbell's grandfather planted apple trees in the 1920s, but it was until 2008 when he and his wife, Sharon, began growing cider apples on their Harmony Orchards in Tieton, Washington. They launched Tieton Cider Works in 2009, with the intent to maintain their practices of being good stewards of the land. The Campbell' Cranberry Cider hits the nose with bright apple and rosé and effervescent white wine tones with a bit of grape and berries. Crisp but sugary on the tongue, it's loaded with apples and cranberry fleshy fruity tartness, fruity sugars and an effervescent wine-y body.
---