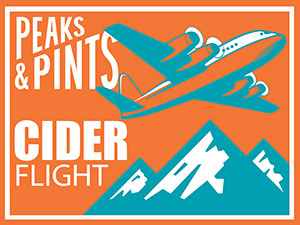 Dr. John Dolittle, the Englishman who can talk to animals, has been a part of children's literature for 100 years, ever since English author Hugh Lofting published the first Dolittle novel in 1920. The character has weaved his way through the century in children's books, film and adaptations, and radio and television series, the latest being Dolittle from director Stephen Gaghan, which screens at 7 p.m. inside the Blue Mouse Theatre down the street from Peaks and Pints in the Proctor District. Robert Downey Jr., freshly released from his career-defining string of performances as Tony Stark, Marvel's Iron Man, lends his talents to portraying the character. Stop by Peaks and Pints before or after the flick for Peaks and Pints Monday Cider Flight: Doolittle.
Peaks and Pints Monday Cider Flight: Doolittle
Finnriver Solstice Saffron
6.5% ABV
When one of Washington's earliest cidermakers, Drew Zimmerman, retired, Finnriver Farm & Cidery owners Keith and Crystie Kisler transplanted 1,000 of his trees from Mount Vernon to Chimacum, a heartwarming, if labor-intensive transition from old guard to new. Finnriver Sostice Saffron is created with locally produced saffron, anise and fennel seeds for aroma of dry apples with subdued saffron. Flavor is medium sweet with green apples, with only subdued saffron notes. It's an unusual adjunct for a cider, but it works really well.
2 Towns Two Thorns
6.2% ABV
The Portland Thorns FC is an American professional women's soccer team based in Portland, Oregon. Established in 2012, the team began play in 2013 in the then-eight-team National Women's Soccer League. 2 Towns Ciderhouse teamed up with the Thorns to created Tow Thorns, a rosé cider made with fresh-pressed Northwest apples, raspberries and rose petals. The result is a uniquely fragrant cider with a vibrant red hue.
Elemental Apple Pie
6% ABV
In December 2014, husband-and-wife team Brian and Christina Callahan, the Woodinville, Washington couple behind the Callahan Cellars winery, launched Elemental Hard Cider, focused on hard ciders made with Northwest apples, cold-fermented with minimal filtering and devoted to expressing the atmospheric components. Elemental's Apple Pie cider is handcrafted with cinnamon, nutmeg, and a hint of white oak, this elegant, tart Granny Smith-like cider reflects everything about the autumn season.
Longdrop Sour Cherry
6% ABV
In August 2014, Chris Blanchard and Carol Crosswhite, in a partnership with Crooked Fence Brewing, founded Longdrop Cider as the first production cidery in the state of Idaho. Seven months later Longdrop had cider in the market — Semi Sweet (now Northwest Apple) Cider, and the award-winning Vanilla Honey Cider. By fall of 2015 major retailers across the state of Idaho carried their ciders. In 2016, Chris and Carol assumed full ownership of the cidery, only to turn around and form another partnership with the Furfaro/Carson family — longtime orchardists and apple processors in North Central Washington state, which led to opening a new production facility in Cashmere, Washington. Their Sour Cherry is a semi sweet cider fermented with sour cherries to give it just the right tartness.
2 Towns Ciderhouse The Bad Apple
10.5% ABV
2 Towns Ciderhouse's The Bad Apple is an imperial style cider, fermented with Willamette Valley meadowfoam honey and aged on Oregon white oak. The result is a semi-dry, apple-forward cider with rich apple, honey, vanilla, and oak notes. Expect a long finish with lingering tartness and acidity. Don't expect to taste the alcohol. It's well-hidden, which mostly presents as warmth.
Original photo courtesy of Kanegen
---