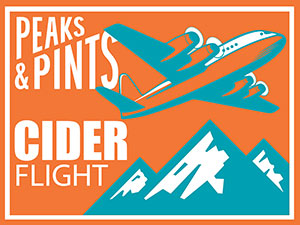 Summertime calls for berry picking season. But if you want to get out of the sweltering heat, you can drop those fruit baskets and head to Peaks and Pints cider cooler to enjoy all the delicious, dark and tart berry ciders. That's right, friends. It's Monday, which means Peaks and Pints offers a flight of ciders and, as you can guess from the smart introduction, we're offering a flight of berry cider today. There are many cideries brewing tart and balanced berry varieties using fruits to cut the traditionally cloying apple flavor. Peaks and Pints offers five delicious berry ciders from the Pacific Northwest in a to-go cider flight we call Peaks and Pints Monday Cider Flight: Berries.
Peaks and Pints Monday Cider Flight: Berries
Yonder Palisades
6.5% ABV
Founded by CEO Caitlin Braam, Head Cidermaker Tim Larsen and Creative Director Maddy Porter, Yonder Cider's taproom is a stone's throw from Seattle's Green Lake and a drive from the orchards and pressing facility in Wenatchee. Their Palisades cider is a blend Fuji, Honeycrisp, Roxbury Russet, Dabinett, various red fleshed apples and Pacific Northwest blackberries, all of which is supported by an herbal hint of sage.
Tumalo Huckleberry Lemon
6.5% ABV
The Tumalo Cider House was built from the ground up by its brewer, Kelly Roark, with business partner Jeff Bennet, plus the help of friends and family. Roark has been brewing cider out of his home since 2007 creating a cider that is authentic, distinct and loved amongst the Bend, Oregon community. He started years ago filling up trash cans with free apples he would find growing around town Bend, then pressing them with friends for homebrew apple cider. Today, Tumalo, still in Bend, specializes in small batch, artisan cider with a focus on dry, complex apple profiles. Head Cidermaker Kelly Roark also knows his way around berries too. Northwest berries come together with a touch of lemon for a refreshing combination of sweet and tart Huckleberry Lemon cider.
Alpenfire Calypso
6.9% ABV
At age 19, Nancy and Steve "Bear" Bishop would go on dates to Canada. They fell in love with cider. After making cider as hobbyists for many years, in 2001 they took a trip to the cider making regions of Spain, France, and England to observe commercial operations. When they returned home, Steve and Nancy took a class at WSU from an English cider master, and ordered 900 French and English cider trees, which started their journey into commercial cider making and the founding of Alpenfire Cider (previously named Wildfire Cider) in Port Townsend. Their Calypso is made with pippin apples grown in Hood River co-fermented with fresh blackberries in stainless, then aged in Bull Run Distilling rum barrels for notes of tart apple reminiscent of granny smith, complex berry, and a hint of oak.
Tieton Huckleberry
6.9% ABV
In 2008, Craig Campbell and his wife, Sharon, began experimenting with making cider from dessert apples grown in their 400-acre commercial fruit orchards. Despite naysayers who warned that cider apples required a maritime climate, Craig also planted a two-acre test orchard with 25 varieties of cider apples. Today, their two-acre experiment expanded into Cider View, a 30-acre "high-density" cider orchard. In their commercial cidery, Tieton Cider Works, they blend American heritage, English and French cider varietals with dessert apples to capture the best of what each variety brings to the bottle: sweetness, acidity, tannin and aroma. The results are ciders with body and a depth of finish, including their Huckleberry cider. Made with Northwest huckleberries and Washington apples, this cider strikes a balance between tart and sweet.
---