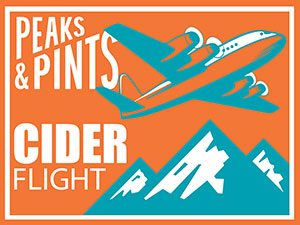 Kim Hamblin is the artistic side and formally known as "artistic director" and "head apple picker." Dan Rinke is the science and oversees the magical fermentation processes and the growing of the orchards. In 2011, they launched Art+Science, a natural cider, perry, and wine company using foraged, organic, or biodynamic fruit and fermenting with indigenous yeast in rural Yamhill County, Oregon. After pouring wine while working as a bartender, Rinke now makes farmy, pinkish sparkling and glorious, cloudy, complex dry ciders. Based in Sheridan, Oregon, Art+Science ciders are now available at Peaks and Pints craft beer bar, bottle shop and restaurant in Tacoma's Proctor District. Stop by and grab our to-flight of Art+Science ciders — a flight we call Peaks and Pints Monday Cider Flight: Art+Science.
Peaks and Pints Monday Cider Flight: Art+Science
Art+Science Humble Cider
7.2% ABV
Made from foraged apples from the western side of the Willamette Valley, Art+Science Humble Cider apples are then milled, pressed, and allowed to ferment naturally with ambient yeast. Toward the end of fermentation, the cider is blended and bottled with some of the apple's natural sugar remaining. The cider continues to ferment in bottle resulting in a light carbonation. This method of carbonating the cider is called the "Ancestral method" or pétillant naturel. The result is a rustic farmhouse styled cider with floral notes, yeasty funkiness, and citrus on the nose. Once in the mouth it has a rich balance of light carbonation, acid, tannins, and a touch of sweet citrus fruit.
Art+Science Mountain Rose
7.2% ABV
In 2012 Art+Science bought the 40 acres and decided to plant apple trees for cider. That year, they also made their first cider from foraged fruit and have grown their business right along with their trees. Their Mountain Rose is a single varietal of the Mountain Rose apple sourced from Mt Hood Organic Orchards. The pétillant naturel cider uses native yeast and is bottle fermented for tart and juicy rose with high acid, a tiny bit sweet, and a nice twangy finish.
Art+Science Prairie Dog
9% ABV
Eight thousand years ago, Neolithic farmers living in the foothills of the Caucasus Mountains tossed grapes into a clay pot to make the world's first wine. Today, on the west side of the Willamette Valley, maverick cidermaker Art+Science uses the ancient technique of using clay pots to ferment — thanks to Novum Ceramics. Their Prairie Dog is another petnat cider made from apples harvested from Koosah Farms and fermented with native yeast in Novum's terra cotta pots. The cider hits the nose with dried stone fruit aroma with a little funky baked apple flavor.
Art+Science Symbiosis
10.8% ABV
Symbiosis is a term describing any relationship or interaction between two dissimilar organisms. The specific kind of symbiosis depends on whether either or both organisms benefit from the relationship. Art+Science's Symbiosis is made from foraged apples in the Willamette Valley and Grüner Veltliner grown at Johan Vineyards in the Willamette Valley. Grüner Veltliner is the most widely planted white grape in Austria. The apples are milled and pressed, and the apple juice is added to the destemmed and crushed Grüner Veltliner. Symbiosis is 50-percent apples and 50-percent white grapes and is naturally fermented with native yeast on the skins of the gruner for three weeks then aged in used white wine barrels for 10 months. Then it is re-sweetened and put in bottle to finish a secondary fermentation to add some carbonation. The result is funky, smoky with a sulfur finish.
LINK: Peaks & Pints cooler inventory
---