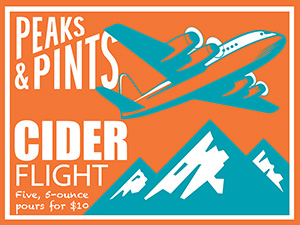 Summertime calls for berry picking season. But if you want to get out of the sweltering heat, you can drop those fruit baskets and head to Peaks and Pints cider case to enjoy all the delicious, dark and tart berry ciders. That's right, friends. It's Monday, which means Peaks and Pints offers a flight of ciders and, as you can guess from the smart introduction, we're offering a flight of berry cider today. We've moved past the initial wave of apple ciders and onto the flavors. (For the record, any drink called a "cider," by definition, has apple in it.) There are many cideries brewing tart and balanced berry varieties using fruits to cut the traditionally cloying apple flavor. Peaks and Pints offers five berry ciders from the Pacific Northwest in what we call Peaks and Pints Monday Cider Flight 8.13.18: Berry.
Ace Berry Cider
5% ABV
California Cider Company, the first family-owned cidery in the U.S., has been producing Ace ciders since 1993 in the beautiful Sabestopol seas of Sonoma County just north of San Francisco, obviously next to some of the world's most renowned wine makers. Ace ferments apple juices for 14 days to dryness and then add back just enough fresh blackberry and raspberry juices to produce the light purple Berry Cider. The mix of apple and berry is sweet on the tongue with a slight tartness.
2 Towns Made Marion
6% ABV
In late 2010, Corvallis homebrewers Aaron Sarnoff-Wood and Lee Larsen filled a gap in the college town's drinking scene — cider. The duo opened 2 Towns Ciderhouse crafting unique ciders brewed with the traditional English and French-style's tannic apples, Oregon grown, of course. The Marion blackberry was originally bred for Marion County, Oregon farmers. Tangy and full of ripe, rich berry notes that shine in 2 Towns' Made Marion, even after blended with Northwest apples. The nose is expressive dark berry and cherry, with apple and sweetness. The taste follows suit — blackberry-like, tart and tangy with a medium bodied and low effervescence with a subtly dry finish.
Portland Cider Fever Bark Tonic
6.3% ABV
Part of Portland Cider's cocktail cider series Fever Bark Tonic, the cidery's first one-off cider, returns whole juniper berries and cinchona bark to make a powerful tea that will cure what ails you, then blended in their classic dry Northwest apple cider. Zest lemon and lime his the palate, giving away to a tannic complexity with a slight juniper finish, reminiscent of a classic Gin & Tonic.
Incline The Scout Hopped Marionberry Cider
6.5% ABV
Sticking to the Northwest, Washington-born Incline Cider Company adds berries bred straight out of the Oregon Willamette Valley: marionberries. Pouring a perfect shade of deep purple-ish red, The Scout Hopped Marionberry Cider's aroma, via the hops, gives off a beer scent along with a rich berry. Marionberry, the bold cousin of blackberry adds, sweet fruitiness that gently balances with the crisp apple and bitter hops of the cider.
One Tree Hard Cider Huckleberry
6.6% ABV
Grant Barnes and Neal Hennessy started making cider as a hobby, and it turned into a vocation. One Tree Hard Cider started in Barnes' Spokane Valley garage, with exactly one recipe: a relatively straightforward semi-sweet apple cider. They went pro in the summer of 2014. This beauty has One Tree's dessert apple cider base that is blended with fresh-pressed Washington apple juice and locally sourced wild huckleberry for a sweet and tart concoction.
---