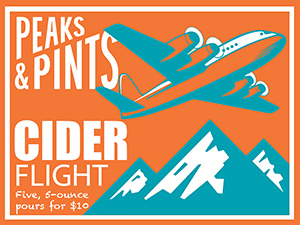 If brewing beer is a science, then making cider is an art. The difference is in the raw ingredients and how they combine to produce the desired end result. Beer-making finds the raw ingredients fairly uniform in taste, and the brewer in full control of the process. On the other hand, the apples that form the main ingredients of cider making can vary in flavor from year to year due to the weather and other conditions present at the time. Not only do apple crops change from year to year, but the time when apples are actually pressed and used during a given year also makes a big difference in the outcome of the cider. That's a quite a lot to overcome when you are a cider-maker trying to concoct a consistent masterpiece throughout the year. Cider styles are divided into two categories, Standard and Specialty, with guidelines spanning 10 styles: Modern Ciders, Heritage Ciders, Modern Perries, Heritage Perries, Fruit Ciders, Hopped Ciders, Spiced Ciders, Wood-Aged Ciders, Sour Ciders and Ice Cider. For today's cider flight we sample five cider guidelines in what we call Peaks and Pints Monday Cider Flight 7.9.18: A Flight of Cider Guidelines.
Washington Gold Northwest Raspberry
5.5% ABV
FRUIT CIDER: By definition, fruit cider has other fruits or fruit juices added to an apple base. Washington Gold Cider's Northwest Raspberry is made with apples and raspberries without added color, flavors or fruit concentrate. The Chelan cidery has been growing apples on its small family farm in Chelan, Washington for more than 40 years. They found the perfect balance of tart and sweet with this cider.
Seattle Cider Dry Cider
6.5% ABV
MODERN CIDER: Made primarily from culinary/table apples modern ciders are generally lower in tannin and higher in acidity. Seattle Cider Company, the city's first post-Prohibition cider producer, delivers delicious modern ciders. With zero percent residual sugar, its Dry is a very dry cider in a classical style. The dryness doesn't equate to a lack of flavor, however, as it still has a refined apple nature underlined by notes of stone fruits and a light tickle of lilac on the nose. It's a cider that can stand alongside one of our roast beef sandwiches without losing the flavor battle.
Incline The Explorer Hopped Cider
6.5% ABV
HOPPED CIDER: Hopped ciders are simply ciders with added hops. On the drier end of the scale while remaining smooth and well-balanced Incline Cider Co.'s The Explorer Hopped Cider is produced from a blend of Yakima apples. A hearty dose of hops is added in to create a floral nose followed by medium sweetness, apple juice with a little bit of hops flavor that adds to the crispness. The finish is almost totally tart and dry.
Whitewood Gibbs Farm Wild Ferment Cider
6.9% ABV
SOUR CIDER: By definition, sour cider is "cider fermented with non-traditional yeast and bacteria, typically lactic and acetic acid, and wild-fermented," so states the United States Association of Cider Makers. It's an old-world method of fermenting with yeast already present on the skins of the apples. These "wild" ciders, many believe, can represent the true character of their farms, exhibiting unique qualities from the region's microflora alongside the influence of the farm's soil and apples. Whitewood Cider Co.'s Gibbs Farm Wild Ferment Cider uses spontaneous fermentation of an orchard blend of heirloom apples from at the farm of Grant Gibbs, a homestead farm located outside of Leavenworth, Washington. Grant Gibbs is one of the first organic farmers on the state and a sustainable farming/new American farmer icon and pioneer. This complex cider has notes of orange and citrus complimented by light touches of alfalfa, clover and green cardamon.
Whitewood Single Variety Newtown Pippin Barrel Aged Cider
8.2% ABV
WOOD AGED CIDER: Wood Aged Ciders are barrel-fermented or barrel-aged Standard Ciders in which the wood and/or barrel character is a notable part of the overall flavor profile. Cubes, chips, spirals, staves, and other alternatives may be used in place of barrels. Whitewood Cider Co.'s Single Variety Newtown Pippin Barrel Aged Cider uses Hood River grown Newtown Pippins pressed, fermented and aged in used whiskey barrels. Expect flavors of caramel apples laced with a honey whiskey and light carbonation.
---