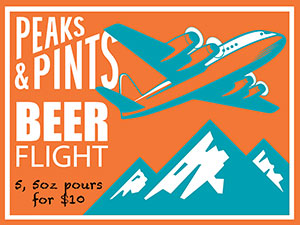 Collaborations are common in the friendly craft beer world, where like-minded brewers often team up to meld brains over the kettle for a day. Sometimes, brewers journey cross-town or even cross-state for such projects with the results eventually being tapped at both brewers' home pubs. Typically, whoever owns the collaboration brewing system and sells the beer sets the rules. Also, when professional brewers collaborate with other professional brewers, the conversations lean toward technical details. When professional brewers collaborate with civilians, the brewing room chatter tends to be more about big ideas and work up something possible. Today's beer flight today centers on collaborations — professional and civilian participants — that we have titled Craft Beer Crosscut 7.8.18: A Flight of Collaboration.
Weihenstephaner/Sierra Nevada Braupakt Hefeweissbier
6% ABV, 35 IBU
Braupakt is a fruity peach and apricot hefeweizen is a collaboration between Weihenstephaner, the world's oldest brewery, and Sierra Nevada. Brewmasters from the two breweries spent the better part of 2017 on recipe development, ultimately creating the fruity-hoppy Braupakt, brewed with the Hallertauer Tradition hop and refined with American West Coast Amarillo and Chinook hops.
Backwoods/Brothers Cascadia Out of the Haze IPA
6.5% ABV
For one collaborative beer, Backwoods Brewing Co. and Brothers Cascadia Brewing Co. desire to break free from the haze, both physical and mental. The two breweries embraced their classical training and brewed a traditional Northwest style India Pale Ale. Their collaborative beer, Out of the Haze IPA, has turned society's heads with its clarity, as well as the amazing hop bill of Simcoe, El Dorado, Citra and Mosaic hops for all the fruit flavors with a slightly bitter finish.
Top Rung/Wet Coast Mutual Haze Milkshake IPA
7.6% ABV, 55 IBU
What happens when Thurston County firefighters hang out with West Pierce Fire and Rescue firefighters? Mutual Haze Milkshake IPA. West Pierce Fire and Rescue firefighters and Wet Coast Brewing Co. founders Bryan Copeland and Aaron Johnson invited Thurston County firefighters and Top Rung Brewing Co. founders Jason Stoltz and Casey Sobol to their Gig Harbor, Washington brewery to trade stories and brew a beer. Mutual Haze Milkshake IPA is brewed with guava purée, hop addition and lactose, giving it amazing balance and full mouthfeel.
Two Beers Proctor Peaks IPA
6.7% ABV, 60 IBU
In the past four to five years there's been a lot of interest in adding crazy fruity and juicy hops to IPAs. Peaks and Pints desired a house IPA based on citrus, pine and bitterness that's more common to IPAs of a decade ago. Two Beers Brewing Co. — a Seattle brewery with one foot planted in the woods, just like Peaks and Pints — allowed the Tacoma bottle shop and taproom to collaborate on an old school IPA. Named after Tacoma's Proctor District, where Peaks and Pints resides, Proctor Peaks IPA's hop bill features Warrior, Chinook, Columbus and Simcoe hops with kettle and dry hop additions. It has clear, copper coloring, because that's a thing, with pine (naturally) flavor and dank on the nose.
Drew Curtis/Wil Wheaton/Greg Koch Stone Farking Wheaton wOOtstout
13% ABV, 65 IBU
The w00t is back. This year marks the fifth year Stone Brewing's collaborative imperial stout hits the street. Stone Farking Wheaton W00tstout 2017, a 13 percent ABV imperial stout brewed with rye, wheat malt and pecans before being partially aged in Kentucky bourbon barrels, is a collaboration between actor Wil Wheaton, Fark.com creator Drew Curtis and Stone CEO Greg Koch. It's named after Wheaton's annual festival celebrating cross-genre geekdom w00tstock. Expect raisins, coffee and roasted malt flavors with a spicy finish. The booze is evident but for the ABV it goes down easy. Woot! Woot!
---