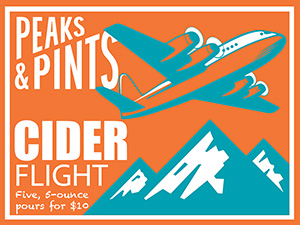 When English colonists first arrived in North America, they enthusiastically embraced the wide range of wild fruits they found growing, from grapes to berries. Unlike back in England, however, edible apples were tough to find. The colonists quickly got to work on rectifying this situation, and as early as 1623 they were planting cider apples in New England from imported seeds. Apples flourished in the fertile soil and friendly climate, and soon everybody drank cider until the Industrial Revolution. John Adams began his days with a draft of hard cider. Plus, in the absence of money, hard cider became as good as cash. Colonists would pay their bills with barrels of hard cider and worked out barter arrangements centered on hard cider. That's all fine and dandy, but let's get to drinking apple and perry ciders in our Peaks and Pints Monday Cider Flight 7.23.18: A Flight of Cider.
Eric Bordelet NV Poiré Authentique
4% ABV
During the 1980s, Eric Bordelet was considered one of the most influential figures in the Parisian wine scene, as he spent several years at the helm of the wine program at the illustrious Michelin Three Star restaurant of l'Arpège in Paris. However, his native Normandy called him, and he handed over his sommelier duties at l'Arpège and returned to the windswept orchards of Normandy in 1992, desiring to bring his superb palate to bear on the high-powered ciders of the region. Believing that cider and poiré, or perry as it translates to English, should be produced like wine he grew more than 20 varieties of apple and 15 varieties of pear on his family orchard situated in the south of Normandy on the Armorican Massif, extending from Domfrontais to the outermost borders of the Mayenne and the Orne. NV Poiré Authentique is true pear cider with just a hint of residual sugar. It's classy cider with the texture and taste of ripe pears. This pear cider has very expressive aromatics, gentle mousse, ultra fine bubbles, beautiful balance, refreshing acidity and traditional off-dry palate with a hint of sweetness.
Etienne Dupont Cidre Bouché Brut de Normandie 2016
5.5% ABV
Etienne Dupont sits in Pays d'Auge, a part of Normandy, France, well known for the quality of its ciders. The Dupont Estate consists of 74 Acres in Normandy, in the heart of the Pays d'Auge region. They produce ciders, pommeau and calvados. Etienne Dupont Cidre Bouché Brut de Normandie 2016 has a beautiful apple scent with sweetness, funk, citrus and pear drops ("cidre bouché" is a generic term for traditional cider, literally "cider under cork"). The taste is even better — light fizzy sweetness, big complex apple and fruitiness, a hint of funk and some light tartness. It's absolutely delicious.
Incline Cider Compass Rosé
6.5% ABV
Bringing together hibiscus, elderflower, ginger and rose petals, the Auburn, Washington cidery Incline Cider created a bright and sophisticated cider with a pink hue. Compass Rosé is a moderate acidity, mild flavor intense on the sweeter side of semi dry cider. It leads with notes of grape, watermelon and strawberry to start. As it warms, a hint of hops and some floral and herbal flavor emerge. It's more fruity than floral.
Cockrell Valley Red Raspberry
6.7% ABV
Brothers Richard and John Cockrell have been making cider and beer in their Puyallup homes for more than 25 years, sharing their craft with family and friends, as well as grabbing many local, state and national awards and accolades. As the brothers began planning for their retirement their fans begged them to go pro. Their hobby became Cockrell Hard Cider. Valley Red Raspberry is made with fresh Puyallup Valley raspberries direct from their farm. This second place at the National Home Brewers Association competition cider pours a clear pinkish ruby red with a small pink head. The nose is sweet, with candied raspberries and syrup. Flavor follows, with candied raspberries and syrup, but not overly sweet.
Baird & Dewar Silvestra
7.4% ABV
Let's face it. Baird & Dewar sounds more delicious than Trevor & Zeb. Trevor Baird is a highly regarded second generation farmer and fruit grower, whose peaches, cherries, and apples are used by many of Portland's finest restaurants and breweries. Zeb Dewar has made cider for more than 17 years, working for more than 10 years as a cellar hand, assistant winemaker, and harvest manager at premium Willamette Valley and Columbia Gorge wineries. He has been making cider from the apples grown at Baird Family Orchard for more than eight years. Baird & Dewar Farmhouse Cider was started slowly and quietly in the fall of 2011 as an extension of Zeb Dewar's home cidermaking. Silvestra is a dry, unfiltered cider aged for a year in oak casks for a Brett-y nose followed by crisp and effervescent, mild green apple tartness.
---