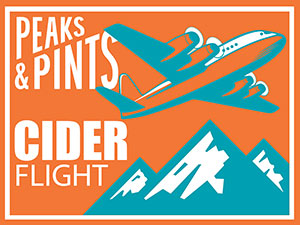 On the northeast corner of the Olympic Peninsula is an extension of land called the Quimper Peninsula, named after Manuel Quimper, a Spanish Peruvian explorer, cartographer, naval officer, and colonial official. In 1790, Quimper and seven Spanish naval officers were dispatched to the Pacific Northwest to help Spanish commander Esteban José Martinez secure British explorer John Meares' Princesa Real vessel and his fur trading post on Nootka Sound. Quimper was the mapmaker of the fleet, made the first chart of, what is now, the Strait of Juan de Fuca, and in the exercise named a peninsula after himself. The narrow peninsula became the home of Port Townsend, Chimacum, Glen Cove and Fort Worden, just to name a few highlights. Today, Quimper Peninsula is home to some of the best cideries in Washington state, including Finnriver Farm & Cidery, Alpenfire Cider and Eaglemount Winery & Cidery. Peaks and Pints Monday Cider Flight 7.15.19: Quimper Peninsula highlights Finnriver and Alpenfire.
When one of Washington's earliest cidermakers, Drew Zimmerman, retired, Finnriver Farm & Cidery owners Keith and Crystie Kisler transplanted 1,000 of his trees from Mount Vernon to their Chimacum farm, a heartwarming, if labor-intensive transition from old guard to new. A working farm, Finnriver houses rows of espaliered apple trees, fields of flowers, grazing sheep, and on weekend nights, bands add to the merriment.
At age 19, Nancy and Steve "Bear" Bishop would go on dates to Canada. They fell in love with cider. After making cider as hobbyists for many years, in 2001 they took a trip to the cider making regions of Spain, France, and England to observe commercial operations. When they returned home, Steve and Nancy took a class at WSU from an English cider master, and ordered 900 French and English cider trees, which started their journey into commercial cider making and the founding of Alpenfire Cider (previously named Wildfire Cider). Located in Port Townsend, the Bishops, including their son and sales director, Philippe, adore showing people around their orchard, where they grow three French and five English cider apple varieties as well as many heritage and dessert apples.
Peaks and Pints Monday Cider Flight 7.15.19: Quimper Peninsula
Finnriver Apple Abbey
6.5% ABV
Made from a select blend of Washington dessert apples from the Yakima Valley, including Jonagold, Cameo, Gala and Honey Crisp, Apple Abbey is fermented in two batches, with one strain of Belgian-style abbey yeast, at high temperatures. Combined, these ferments present the archetypal Belgian beer nose of tropical fruit with hints of spice and pepper. Lingering sweetness from the apples brings out tropical aromas of ripe banana, with hints of pepper and clove spice. A low acidity allows the lees to wander and create a gentle body. Expect a nutty and bread-like finish.
Finnriver Lavender Black Currant
6.5% ABV
Finnriver Lavender Black Currant Cider celebrates the botanical bounty and beauty of the Olympic Peninsula. This refreshing purple-hued sparkling cider features the organic Washington apple fermented and blended with the sweet and tart delights of black currant. Add to that the delicate floral notes of organic Sequim lavender, sourced from Purple Haze farm, and you have an aroma of strong lavender, currant, Concord grape, and honey, followed by lavender, tart currant, grape, and apple flavors. 
Alpenfire Glow Rosé Hard Cider
6.8% ABV
Alpenfire Cider is based in the seaport town of Port Townsend, Washington. They are a family run, certified organic, estate cidery and orchard planted in 2003. They created this a single varietal rosé cider with Hidden Rose apples, a rare, dessert apple variety. The aroma is composed primarily of a really luscious, ripe apple character. Amazing! On the palate expect a robustly built cider, sporting rich tannin, notes of caramel and a rich weightiness that is tamed by the sparkle. Not atypical cider by any means.
Alpenfire Foxwhelp
6.9% ABV
In Colonial America, cider was the most common beverage. In many places, the water was not safe to drink and most homesteads had an apple orchard. Pressing and fermenting fresh apple juice was the easiest way to preserve the large fruit harvest. Pressed in the winter from 2016, fermented slow with champagne yeast then left to mature in stainless for 12 months, Alpenfire Cider's Foxwhelp is made with the Port Townsend cidery's organic homestead bittersharp Foxwhelp trees, which were planted in 2003. These beautiful apples are the size of soft balls, great for blending and making this spectacular single varietal. It's on the sweeter side of dry with moderate tartness and a hint of bitterness and funk. The taste is acidic heirloom apple, wood, nut, lemon and yeast.
Alpenfire Spark!
8.9% ABV
Port Townsend cidery Alpenfire creates Spark, a sparkling cider with an unique blend of organic heirloom apples. Varietals grown in Sequim, Washington, such as Melrose and Winter Banana make up 80 percent of the blend while Alpenfire's estate Brown Snouts, Foxwhelp and Vilberie apples round out the last percent and help give this cider a nice astringent finish.
---