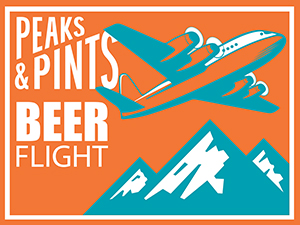 In 2016, mad scientist brewer Paul Pignataro founded Decadent Ales, a nanobrewery located in Mamaroneck, New York, and is distributed by Twelve Percent Beer Project, the brewery arm of Twelve Percent Imports, as well as contract-brews at Thimble Island Brewing Co. and Dorchester Brewing Co. in Connecticut and Massachusetts. Before Pignataro could operate in Mamaroneck, officials had to amend the village's zoning code to allow for beer production. It was a lengthy process, but a year and eight months later, Decadent Ales is serving pints of their velvety smooth dessert-inspired brews. Last December, Pignataro opened a Decadent Ales brewpub inside Half Time craft beer store in Mamaroneck. Today, Peaks and Pints presents a flight of Decadent Ales that we call Craft Beer Crosscut 7.13.19: Flight of Decadent Ales.
Craft Beer Crosscut 7.13.19: Flight of Decadent Ales
Decadent Elderflower Mochi
8.6% ABV
You've no doubt eaten those one-bite mochi desserts filled with ice cream served in Japanese restaurants? You like those, don't you? Lightly sweet, flavored mochi filled with ice cream? Who wouldn't? Well now imagine them in beer. Decadent Ales offers a series of floral forward Japanese Mochi beers, including Elderflower Mochi, an IPA brewed with elderflower, vanilla, and marshmallow. Expect a lovely balance of juicy, light dank/earthy hops with elderflower, vanilla, and marshmallow flavors on top of a wheat/oat/malt backbone. It has a light residual sweetness with lingering dryness.
Decadent Blackberry Cream Pop
8.6% ABV
Decadent Ales Blackberry Cream Pop is an all Mosaic dry-hopped double IPA brewed with blackberries and Madagascar vanilla beans and a propriety blend of Turbinado (typically used to make simple syrup for cocktails) and Muscovado (a darker, more molasses-like sugar). It hits the nose with notes of vanilla, milk sugar and a little bit of grapefruit citrus. Hits the tongue with blackberry and vanilla flavors. Finishes dry, but fairly smooth with milk sugar and grapefruit citrus flavors. We could use some more blackberry, though.
Decadent Coconut Citrus Citra
8.6% ABV
Decadent Ales' Coconut Citrus Citra is a double India pale ale brewed with orange zest and coconut flakes, then dry hopped with Citra hops. The bright yellow beer hits the nose with big coconut and tangerine, followed by notes of coconut, grapefruit, orange juice, pineapple, lemon, and tropical fruit cocktail.
Decadent Double Toasted Marshmallow
9.5% ABV
Decadent Ales brewed a double IPA dry hopped with a blend of Madagascar vanilla bean, candied turbinado sugar and candied coconut sugar. Yeah, weird, but tasty. The aroma is super intense vanilla pods with a lot of grain, alcohol marshmallow (somehow), pure caster sugar, a dose of yeast and some more sugars with a good dose of quite resinous hops at the tail end. This full-bodied IPA begins with rich vanilla, sugar and malt flavors. Orange-y hops make a brief appearance before ending with mild marshmallow, resin and a bittersweet kick. 
Decadent Decadent Delight
11.7% ABV
Decadent Ales is a craft brewery in New York specializing in intriguing flavored brews. Evil Twin Brewing is a nomadic beer creator from Denmark that has found a permanent home in Brooklyn, New York. The two New York breweries teamed up to create a pastry stout that was released as part of the Twelve Percent Beer Project on April 29, 2018 at Veracious Brewing Company in Monroe, Connecticut. Decadent Delight is brewed with coconut, pistachio, rum flavoring (made with molasses and sugar cane) and a small touch of cinnamon. It hits the nose with molasses, roast, nuttiness and a hint of coconut. Taste is cinnamon and brown sugar, with some pistachio, moving to roast and light coconut.
---