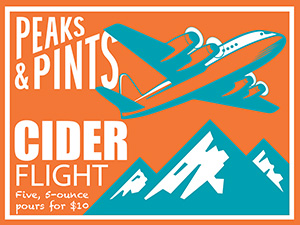 Cider is almost exactly like wine, except that it's made with apples instead of grapes. Good cider very rarely tastes like apples. A lot of the commercial, industrial, processed cider that uses concentrate and lots of sugar tastes like apples or green apple Jolly Ranchers. Finer cider should taste of other fruit, and it should have earthy characteristics. The hallmark of a good cider is that doesn't taste like kids' apple candy, just like good wine doesn't taste like concord grapes. Today is Monday, which means Peaks and Pints pours a flight of cider. It's also Memorial Day. Take time to remember service members who died in the line of duty defending our freedom in conflicts across the globe as you enjoy Peaks and Pints Monday Cider Flight 5.28.18: A Flight of Apples.
Portland Cider Sorta Sweet
4.5% ABV
Portland Cider's Sorta Sweet is made from 100 percent Northwest apples — Gala, Honeycrisp, Granny Smith, Jonagold, and Golden Delicious — and pours a common dark straw with only slight evidence of carbonation. The nose announces this cider's sweet profile with ripe green apple aromas that come off as creamy. The high sugar level in this cider provides the body and impression of weight on the palate. Super ripe green apple overrides everything here. This would be a perfect cider to give to folks who believe "cider" is made by big beer companies. Like the name suggests, Sorta Sweet is just that — a full mouth feel of apple, yet with a sweeter balance that is refreshing.
Ferme De Beau Soleil Cidre Fermier Bio
5% ABV
Since 2002, Thomas Renouard has been growing apples on his family's 8 hectares in Matignon, in western France. The orchards are full of traditional apple varieties, many of which were planted by Thomas' grandfather. In 2005, he began the process of converting his orchards from standard to organic. ECOCERT awarded the Renouard orchards organic status in 2008. Today, Thomas Renouard runs a one-person operation under the Beau Soleil label (he's the delivery driver, the cider maker and the sales staff all wrapped in one). Cidre Fermier Bio is big, earthy semi-sweet cider with a solid load of tannins that balance nicely with the acidity and apple fruitiness.
Txopinondo Sagarnoa
6%
Ascain — a commune in the Pyrénées-Atlantiques department in the Nouvelle-Aquitaine region of south-western France — is the home of master artisan cider maker Dominic Lagadec, the "Maître de Chai," of Cidrerie Txopinondo. He follows a precise method to develop his craft Sagarnoa, literally apple wine, a fermented beverage made from apples, matured on lees in barrels for a minimum of six months, producing a refreshingly dry and fruity taste. Note: The bottle should be shaken before opening to resuspend the natural deposit of unfiltered drinks then poured 20 inches from a flat-bottomed glass.
Seattle Cider Semi Sweet
6.5% ABV
Joel VandenBrink, the founder of Two Beers Brewing Co., launched the Seattle Cider Company in August 2013, with the help from his Two Beers sales rep and a former farm hand Eric Willard. Diagnosed with Crohn's disease, which makes beer difficult to digest, VandenBrink launched the cider company with only two products: Semi Sweet and Dry. VandenBrink didn't launch with six to 10 products, common with start-up craft breweries. He didn't launch with experimental pineapple cider or pomegranate cider. No, VandenBrink, Willard, up-and-coming cider savant Brent Miles and the Seattle Cider crew — with natural support from the Two Beers crew too — hit the market with two, solid ciders. And the cider company sprouted big and wide. Semi Sweet has the same apple selection as Dry Hard Cider (Granny Smith, Fuji, Red Delicious, Golden Delicious and Gala apples) but with just a touch of sweetness. Honey in color with notes of bergamot orange, lemon, apple and hints of citrus and cinnamon on the palate.
Moonlight Thirteen 5
13.5% ABV
Londonderry is a charming town in southern New Hampshire about 45 minutes north of Boston. Londonderry, known for its apple orchards, is home of Moonlight Meadery, which began in 1995 when Michael Fairbrother, an experience brewer, tasted his first glass of mead, a cyser made with honey and apples. Moonlight also makes New England style hard cider, including Thirteen 5 made from freshly-pressed apple cider with a bit of natural sugar used to help reach the impressive strength of 13.5 percent, then Fairbrother lets it age in handmade American foeders. The aroma is fruity with some apple, and honey. Taste is sweet, almost like a candied apple, with fresh organic honey. It definitely hits you right across the face with booze.
---