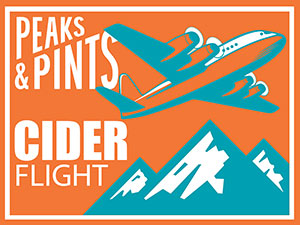 Wishin' I was
Knee deep in the water somewhere.
Got the blue sky, breeze and it don't seem fair.
The only worry in the world
Is the tide gonna reach my chair.
Sunrise, there's a fire in the sky.
Never been so happy.
Never felt so high.
And I think I might have found me my own kind of paradise: Peaks and Pints Monday Cider Flight 5.27.19: Tropical Ciders.
Let's get to drinkin' ciders. …
Peaks and Pints Monday Cider Flight 5.27.19: Tropical Ciders
One Tree Staycation
5.6% ABV
Grant Barnes and Neal Hennessy started making cider as a hobby, and it turned into a vocation. One Tree Hard Cider started in Barnes' Spokane Valley garage, with exactly one recipe: a relatively straightforward semi-sweet apple cider. They went pro in the summer of 2014. Their Staycation pineapple cider hits the nose with mostly apple plus vague hints of the pineapple and mango. The taste is really sweet and lightly tart. The pineapple and mango come through more in flavor.
Reverend Nat's Viva La Pineapple
6% ABV
When his North Portland neighbor begged him to take his backyard apples off his hand in 2004, Nat West began experimenting with fermentation, turning the small green apples into hard cider. His friends went nuts. West would go on to hold weekly free cider parties at his house, experimenting on his friends, which ended up at 50 or so people. In the summer of 2011, West launched Reverend Nat's Hard Cider. Then he put on his mathematician button-down sweater. He took a blend of fermented fresh apple juice sourced from Eastern Washington and added unfermented fresh pineapple juice. Then, he added a touch of cinnamon, cloves and allspice. The summary is spice and pineapple that hits the nose and tongue with notes of green apples and pear. Proof!
Seattle Cider Pineapple Agave
6.5% ABV
Joel VandenBrink, the founder of Two Beers Brewing Co., launched the Seattle Cider Company in August 2013, with the help from his Two Beers sales rep and a former farm hand Eric Willard. Diagnosed with Crohn's disease, which makes beer difficult to digest, VandenBrink launched the cider company with only two products: Semi Sweet and Dry. Today, Seattle Cider has many options, including Pineapple Agave. Ripe and juicy pineapple aroma, soft tartness, and subtle tropical sweetness lead to a clean finish in this perfect vacation sipper.
Schilling Passport Pineapple Passionfruit
6.7% ABV
In 1881, Colin Schilling's great-great-grandfather, August, founded the Schilling Spice Company in San Francisco, with a goal of bringing pure, natural spices to everyone at a fair price. Today, at Schilling Hard Cider, August's core values are carried forward and paired with innovative cider-making techniques to produce quality and complex hard ciders that, according to media hype, is the number on selling craft cider with three taprooms — Auburn, Seattle and a 50-tap cider house in Portland — and retail in 20 states. Think about all that plus the fact that Schilling uses only 100 percent fresh pressed apples, locally sourced non-GMO ingredients, and individually hand-selected yeast strains with beer yeast rather than wine yeast (Schilling likes beer yeast rather than wine yeast for the malt flavor) as you enjoy this unfiltered cider made with juices of fresh pressed apple, pineapple and passionfruit. The nose arrives with huge pineapple and apple — granny smith and pink lady jump — with some lavender, rose petal, ginger, lemon zest and passionfruit. On the tongue, expect ample apple, passionfruit and pineapple sweetness as well as a touch of citrus and sour bite.
Swift Pineapple Hop Cider
6.7% ABV
Swift Cider is a small-batch, craft hard cider company from Portland, Oregon. The reincarnation of Outcider LLC, Swift carries forward the same dedication to fresh-pressed apples, wholesome local ingredients, slow-and-cold fermentation, wild yeasts, and intensely delicious flavor. Aidan Currie is the head-cider maker, founding owner, and obsessive fermentation sage. This past summer, Swift Cider grabbed "Medium Cidery of the Year" at the Portland International Cider Cup. Its Pineapple Hop Cider took Silver in the Hopped Cider category. The semi-dry cider has balanced flavor between the pineapple and hops with only hints of bitterness.
LINK: Peaks and Pints Monday Cider Flight archives
---