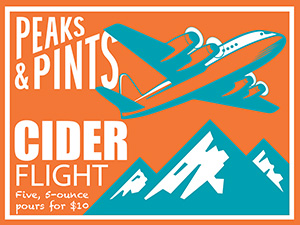 The Northwest Cider Association announced the seventh annual Oregon Cider Week will go down June 21-July 1, 2018. This year's celebration of taking apples and pears and making them alcoholic and drinkable might be called "Cider Week," but for the fruit-flavored purposes of this sprawling festival, "week" has been redefined to encompass 11 days, featuring more than 150 different ciders from around the world. Visit nwcider.com to stay updated on the full list of locations and events. In the meantime, Peaks and Pints presents a flight of Oregon ciders for our weekly cider flight, offering five cider under the headline Peaks and Pints Monday Cider Flight 5.21.18: A Flight of Oregon Ciders.
2 Towns Ciderhouse Easy Peasy Lemon Squeezy Cider
5% ABV
2 Towns Ciderhouse has created an easy-drinking cider with lactobacillus for the summer. Don't freak out. Lactobacillis doesn't make cider more acidic, but rather less. It can convert malic acid to lactic acid (MLF), which reduces the acidity and sourness. MLF is somewhat common in English style ciders, which are mainly comprised of bitter sharp apples. It's primarily used as a sequential fermentation during the aging process as in wine production, i.e. added after the sugars and converted to alcohol by regular yeast. Anyway, 2 Towns also adds fresh-pressed Northwest apples, Meyer lemon and raspberries for a tart raspberry lemonade … without sugar.
Portland Cider Hop 'Rageous
6.5% ABV
Take a balanced dry cider made with Gala, Honeycrisp, Golden and Fuji apples, infuse it with the fragrant Citra variety of hops, then double down on the citrus notes of those hops by throwing in some bitter orange peel, and the result is an outrageously refreshing hopped cider that can only be described as Portland Cider Hop 'Rageous. The aroma doesn't rage; rather is has a nice soft apple nose with some citrus. The flavor also doesn't rage. Expect sweet fresh citrus hops, pine and big not overly sweet apples.
Alter Ego The Guardian Angel
6.5% ABV
Friends and winemakers Anne Hubatch, Nate Wall and Kris Wall decided to partner to craft artisanal ciders utilizing winemaking techniques at an urban ciderhouse, and Alter Ego Cider was born. Anne has been at the forefront of urban winemaking with Helioterra Wines, Whoa Nelly Wines and Guild Winemakers. Nate also has several years of winemaking experience, but additionally has been making cider for the past three years for one of the Northwest's largest cider producers. Anne and Nate bring a winemakers focus on nuance, delicacy, and depth to their small batch production cider. Their blueberry and pomegranate cider. The Guardian Angel, celebrates Northwest summer berries. It offers deep garnet purple color, brambly berry notes and fresh fruit characteristics of both the apple and blueberry, with hints of pomegranate added for a zippy kick. This cider is semi sweet, and perfectly balanced and refreshing.
Reverend Nat's Sacrilege Sour Cherry
6.5% ABV
The generally agreed-upon cidermaking process says to add white wine yeast to apple juice, wait a couple months, then enjoy. Reverend Nat's Hard Cider broke the rules with this cider. Starting with a tart blend of heritage dessert apples, they pressed out their juice, then add a couple hundred pounds of tart pie cherries. Then, they added lactobacillus. When the dust settled, they added more flavor with some tart cherry juice to make it a bit off-dry with flavors of cherry skin, pear, apple, oak and nice tartness.
Double Mountain Oak Aged Dry Cider
9.7% ABV
Double Mountain had long toyed with releasing their own hard cider, occasionally featuring housemade cider on at the taproom made from owner Matt Swihart's own apples. The brewery finally releases its own Dry Cider in December 2017, blending freshly harvested heirloom apples from Double Mountain Orchards and Hood River Newtowns, Braeburns, and Hanners for old world complexity. Double Mountain gave it plenty of time to dry out and develop the aromas of juicy pear, lychee, green fruit, and chamomile. It finishes tart, crisp, dry and quenching … until it's aged in barrels that previously held bourbon and Clear Creek Apple Brandy in the Hood River brewery's cellar for the better part of a year. The wood lends savory caramel, bright vanilla and a dry, tannic character to the cider. It's light, dry, wonderfully complex, and deliciously satisfying.
---