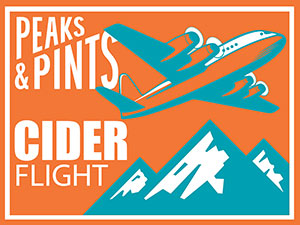 It's Monday, which means Peaks and Pints celebrates the taking of apples and pears and making them alcoholic and drinkable via a cider flight. Today, we focus on Portland, Oregon. While Portland is known for having more breweries than any other city in the world, amazing wines from the nearby Willamette Valley and a host of craft distilleries, the latest beverage trend in town is definitely hard cider. Sure, the city has a penchant for drinking, but maybe also because of Portland's proximity to some of the world's best apples that it's quickly become the place to go for the country's fastest-growing booze option: cider. Also, cider making draws from techniques typically used in brewing and winemaking, such as using oak barrels to age the brew or adding hops to increase its bitterness, making it a perfect fit for Portland. That's all fine and dandy, but let's get to drinking. Enjoy Peaks and Pints Monday Cider Flight 3.11.19: Portland Oregon.
Peaks and Pints Monday Cider Flight 3.11.19: Portland Oregon
Reverend Nat's Viva La Pineapple
6% ABV
When his North Portland neighbor begged him to take his backyard apples off his hand in 2004, Nat West began experimenting with fermentation, turning the small green apples into hard cider. His friends went nuts. West would go on to hold weekly free cider parties at his house, experimenting on his friends, which ended up at 50 or so people. In the summer of 2011, West launched Reverend Nat's Hard Cider, most likely the only cidery in Portland. This cider is a blend of fermented fresh apple juice sourced from Eastern Washington and unfermented fresh pineapple juice. A touch of cinnamon, cloves and allspice is added. The spice and pineapple hit the nose and tongue with notes of green apples and pear. Delicious.
Alter Ego Cider The Brute
6.5% ABV
Friends and winemakers Anne Hubatch, Nate Wall and Kris Wall decided to partner to craft artisanal ciders utilizing winemaking techniques at a Portland ciderhouse, and Alter Ego Cider was born. Anne has been at the forefront of urban winemaking with Helioterra Wines, Whoa Nelly Wines and Guild Winemakers. Nate also has several years of winemaking experience, but additionally has been making cider for the past three years for one of the Northwest's largest cider producers. Anne and Nate bring a winemakers focus on nuance, delicacy, and depth to their small batch production cider. Their "The Brute" is a pure apple cider, crafted from a blend of several locally-grown Northwest apples and fresh pressed and fermented cool to retain those distinctive apple aromatics, plus a little dry white wine yeast and some champagne effervescence. The flavor is fairly dry, with champagne and white wine yeast, with subtle apple sweetness.
Alter Ego Cider The Dark Sider
6.5% ABV
A delicious blend of crisp apple, plump, ripe, sweet blackberries you might find while hiking a wild forest trail, and tree ripened plums, Alter Ego Cider The Dark Sider sports the right sweetness, tartness and complexity.
Portland Cider Hop'Rageous
6.5% ABV
Oregonian Jeff and British Lydia launched Portland Cider Company in 2012 with the intent of marrying English cider traditions with the innovative Northwest micro-brewing culture.  It all started from a desire to make the clean, dry cider Lynda grew to love in England, and Jeff yearned to find in Oregon. With their Hop'Rageous cider, they take a balanced dry cider made from 100 percent Northwest apples, infuse it with the fragrant Citra and Amarillo hops, and the result is equal notes of bitter hop and tangy citrus.
Reverend Nat's Abbey Spice
7.5% ABV
Reverend Nat's Hard Cider Abbey Spice New England style cider receives an added fresh burst of appley-ness while still maintaining a vinous and spicy flavor made by fermenting with thousands of pounds of raisins, cinnamon, nutmeg and dark muscovado sugar — sourced from the tiny island of Maritius off Africa — followed by a three months been sit on toasted American oak. This medium bodied cider with mild carbonation tastes like an apple pie — rich, brown sugar, caramel and green apples.
---