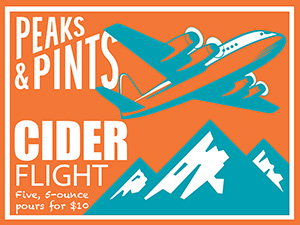 Christmas cheer. Sure. Tis the season to endure folly. That of your relatives and distant friends and that of the uncomfortable enforced social gatherings. But even curmudgeons can find the fun with minimal effort. Thank Bacchus for food. Without little nibbles present at parties, soporific fat and sugar creations at family gatherings, we wouldn't have handy distractions from discomfort. Don't want to fight with your Trump-voting Auntie? Ask about her butter cookies or favorite stuffing. Cousin Fred about to slip you the tongue? Pop gingerbread in your mouth instead, or start cracking walnuts with your bare hands. Along with all that butter, cinnamon, and sugar, it's the time to reach for flavorful, full-bodied ciders. American cider makers have embraced these colder months by releasing ciders packed with cranberries, spices, and a big heaping of holiday cheer. If you are thinking of curling up with a good cider to hibernate for the winter, here is Peaks and Pints Monday Cider Flight 12.17.18: Holiday.
Peaks and Pints Monday Cider Flight 12.17.18: Holiday
Spire Mountain Dark & Dry
5% ABV
Spire Mountain Cider (owned by Olympia-based Fish Brewing Co.) makes a beer and wine lover's cider, Dark 7 Dry, which is complex and doesn't overwhelm with sweetness. Brewed with Washington apples, brown sugar and molasses, the Dark & Dry hits the nose with tart apple cookie. On the tongue, expect burnt apple, brown sugar and a touch of vinous alcohol with a smooth finish, not quite crisp but not overly sweet
Fierce County Everything Nice
6.5% ABV
John and Tolena Thorburn adore craft beer. For 15 years they traveled the world drinking it. But, an oversaturated market lead them to cider. Learning and enjoying the varying styles and flavors unique to each brewer and set of ingredients, the Thorburns applied that experience to years of homebrewing and cidermaking. In 2017, Fierce County Cider launched its first commercial operating space in a 97-square foot ciderhouse in Puyallup. The ciderhouse is built for efficiency, utilizing the latest brewing technology and equipment to allow lead cidermaker Tolena to create "fiercely" ciders, including Everything Nice. The nano cidery's winter release, it's sugar, spice and Everything Nice. Indeed. It's a blend of mulled spicy goodness, notes of cinnamon, nutmeg and a hint of licorice.
Reverend Nat's Abbey Spice
7.5% ABV
Reverend Nat's Hard Cider's Providence Traditional New England cider receives an added fresh burst of appley-ness while still maintaining a vinous and spicy flavor made by fermenting with thousands of pounds of raisins, cinnamon, nutmeg and dark muscovado sugar — sourced from the tiny island of Maritius off Africa — followed by a three months been sit on toasted American oak. This medium bodied cider with mild carbonation tastes like an apple pie — rich, brown sugar, caramel and green apples.
Finnriver Fire Barrel
9% ABV
Finnriver Farm & Cidery wrangles apples from all over Washington, but its Orchard Series Fire Barrel is farmcrafted and fermented with a blend of homegrown Finnriver orchard organic cider apples and white wine yeast in stainless steel tanks. Once the fermentation is complete, they cask the cider in rye whiskey barrels for 5 months to impart depth and character. Past the smoky nose, expect a traditional cider apple taste with a whisper of whiskey and rye spice, caramel, vanilla and a mature, tannic finish.
WildCraft Krampus Cranberry Spruce
9% ABV
Historically, Krampus is a horned anthropomorphous creature that roams the world alongside St. Nicholas. He is often depicted with hoofed feet and mouth agape with a disproportionally long, serpiginous tongue, carrying a bundle or birch branches and a basket on his back.  While Santa is well known to reward the good children with gifts and stocking stuffers, Krampus, as the Bavarians will attest, is tasked to punish the moppets of abominable behavior. This holiday season WildCraft Cider Works is unleashing Krampus Cranberry Spruce. The ingredients are sourced from Oregon — not only the apples, but also the cranberries from Cape Blanco Cranberries in Port Orford, as well as the foraged spruce tips. The cranberry comes through in the front, then comes around to help with a lightly acidic dry finish. This is rounded out with subtle coniferous notes from the spruce.
---