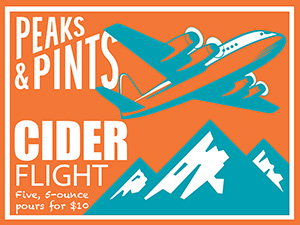 A Christmas party is the requisite calm before the storm known as your relatives. Yes, family is a beautiful gift that you will cherish always, but they are also complicated and there is always that super-conservative old person who is out of fucks to give and will spend the whole night preaching the gospel of our president. If nothing else, think of a Christmas party as dress rehearsal for the main event, a time to work out all of the kinks (dry stuffing is a moderately forgivable offense) and reacquaint your body with high alcohol after swearing it off post-Thanksgiving hangover. Speaking of your affinity for the strong stuff, Peaks and Pints suggests skipping the OG magnum of Yellow Tail Shiraz and serve imperial ciders at your Christmas party. We offer a taste of five high alcohol ciders in our Peaks and Pints Monday Cider Flight 12.10.18: Imperials.
Peaks and Pints Monday Cider Flight 12.10.18: Imperials
Bad Granny In The Flesh
7.2% ABV
Julie and Bret Pittsinger opened Karma Vineyards in the fall of 2007, creating the first traditional style champagne in Chelan County, Washington. As the brand grew the Pittsingers saw an opportunity to partner with his long-term relationships of apple growers in the area that he's cultivated over several decades. The chemistry between the quality of apple and the knowledge of the traditional French champagne method, created a unique hard cider and Bad Granny Hard Cider was born. In The Flesh is made with apples that are not only red outside, but inside as well. The red flesh apple brings a depth of flavor to this dry and crisp cider, coupled with a hint of oak.
Baird & Dewar Silvestra
7.4% ABV
Let's face it. Baird & Dewar sounds more delicious than Trevor & Zeb. Trevor Baird is a highly regarded second generation farmer and fruit grower, whose peaches, cherries, and apples are used by many of Portland's finest restaurants and breweries. Zeb Dewar has made cider for more than 17 years, working for more than 10 years as a cellar hand, assistant winemaker, and harvest manager at premium Willamette Valley and Columbia Gorge wineries. He has been making cider from the apples grown at Baird Family Orchard for more than eight years. Baird & Dewar Farmhouse Cider was started slowly and quietly in the fall of 2011 as an extension of Zeb Dewar's home cidermaking. Silvestra is a dry, unfiltered cider aged for a year in oak casks for a Brett-y nose followed by crisp and effervescent, mild green apple tartness.
Finnriver Fire Barrel
9% ABV
Finnriver Farm & Cidery wrangles apples from all over Washington, but its Orchard Series Fire Barrel is farmcrafted and fermented with a blend of homegrown Finnriver orchard organic cider apples and white wine yeast in stainless steel tanks. Once the fermentation is complete, they cask the cider in rye whiskey barrels for 5 months to impart depth and character. Past the smoky nose, expect a traditional cider apple taste with a whisper of whiskey and rye spice, caramel, vanilla and a mature, tannic finish.
Portland Cider Perfect 10
10% ABV
"The Perfect 10 was inspired by the cider I first made at home in our guestroom closet," says Jeff Parrish, co-owner of Portland Cider Co., in Perfect 10 hype. "It's dangerously delicious and easy to drink!" Indeed. The Perfect 10 is an artisanal hard apple cider crafted in the style of a traditional English scrumpy or imperial cider, with a clean Northwest finish. It's a blend of 100 percent Northwest apples, fermented cold and slow to preserve fresh apple flavors and aromas. Parrish and crew allow the new year-round cider to rest for more than two months to further develop the rich flavors. The cider is then sweetened with a touch of juice and balanced with a little acidity to round out the higher tannin profile.
2 Towns Ciderhouse The Bad Apple
10.5% ABV
2 Towns Ciderhouse's The Bad Apple is an imperial style cider, fermented with Willamette Valley meadowfoam honey and aged on Oregon white oak. The result is a semi-dry, apple-forward cider with rich apple, honey, vanilla, and oak notes. Expect a long finish with lingering tartness and acidity. Don't expect to taste the alcohol. It's well-hidden, which mostly presents as warmth.
---