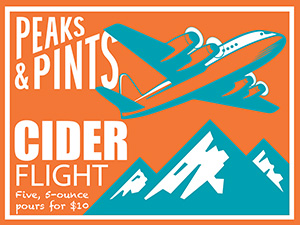 Peaks and Pints argues that autumn is a super season, at least when it comes to food and drink. What we eat and drink this time of year evokes memories more easily than what we consume in other seasons. This is the time of year we dust off crockpots and Dutch ovens for soups and stews, filled — at least right now — with the remaining harvests of our local farms. This is when we flock to orchards for fresh-picked apples, and when we scoop out globs of pumpkin seeds for roasting. We drop cinnamon sticks in hot cider, and warm up chocolate with piquant spices. We're heartened that in these divided times, it seems like we can all at least agree on fall. The cool weather, the smell of crabapples on wet leaves redolent of schooldays past, warm spices baking in the oven, and delicious cider … who could argue with any of that? Peaks and Pints has rounded up five delicious hard ciders for an autumn day that we call Peaks and Pints Monday Cider Flight 11.12.18: Fall.
Peaks and Pints Monday Cider Flight 11.12.18: Fall
Newtopia Cyder Chai Me A River
5.8% ABV
Newtopia Cyder grabbed a Gold medal at last year's San Diego International Beer Competition for its Chai Me A River cider. Made with cinnamon, chamomile and tangy chrysanthemum, this comforting cider has flavors of sweet juicy apple, baking spices, chai tea sweetness and a fresh sweet apple finish. It's sweet and spicy with a nice balance.
Finnriver Sidra
6.5% ABV
Finnriver Farm & Cidery made a Spanish style cider fermented with open headspace in the tank allowing exposure to oxygen, which promotes the wild vinegar bacteria that provide the pungent acetic nose these ciders are famous for. This cider carries acidity from tart culinary apples and a finishing astringency from a touch of oak. Fermented with oak and lightly sweetened with organic cane sugar. This cider begins with aromas of unripened olives up front, offers slightly briny notes on the mid palate and then finishes with gentle nuances of bitter oak and pine needles. Cloudy in the bottle and the keg, the Spanish generally take their cider un-carbonated and at room temperature; Finnriver bends a little and gives this a gentle bubble while allowing the lees to persist and deepen the nutty bitterness.
Cider Riot! 1763 Revolutionary West County Cider
6.9% ABV
When English Prime Minister John Bute imposed a cider tax in 1763 the people of the West Country rose up in a revolt known as the "Cider Riots." Two hundred fifty years later, Cider Riot!, a small-scale cidery in Portland's North Tabor neighborhood, made its first cider, fittingly entitled 1763 Revolutionary West Country Cider. The 2013 vintage was highly acclaimed, declared in the top three best ciders in Oregon by Willamette Week, and garnering a silver medal at the Great Lakes International Cider and Perry Festival. Yamhill County grown Yarlington Mill, Harry Masters Jersey, Dabinett and a few French cider apples lend robust tannins, and rich flavors to a cider that's worth fighting for. Fermentation from natural yeasts from the apple skins is augmented with wine yeast, for a full, dry cider, unfiltered in the tradition of a Somerset scrumpy.
d's Wicked Baked Apple
6.9% ABV
Let's talk Baked Apple, as in Kennewick-based hard cider maker d's Wicked Cider's 2015 U.S. Open Beer Championship gold medal winning creation. The cider company, which is owned by Daniel and Heidi Washam, owners of Sun River Vintners, also in Kennewick, opened shop with Baked Apple, which uses Washington apples to makes its three cider varieties. This off-dry cider hosts the flavors of Red Delicious, Honey Crisp and Granny Smith apples, finishing with a touch of allspice and cinnamon. Think grandma's apple pie without the crust.
Bad Granny In The Flesh
7.2% ABV
Julie and Bret Pittsinger opened Karma Vineyards in the fall of 2007, creating the first traditional style champagne in Chelan County, Washington. As the brand grew the Pittsingers saw an opportunity to partner with his long-term relationships of apple growers in the area that he's cultivated over several decades. The chemistry between the quality of apple and the knowledge of the traditional French champagne method, created a unique hard cider and Bad Granny Hard Cider was born. In The Flesh is made with apples that are not only red outside, but inside as well. The red flesh apple brings a depth of flavor to this dry and crisp cider, coupled with a hint of oak.
---