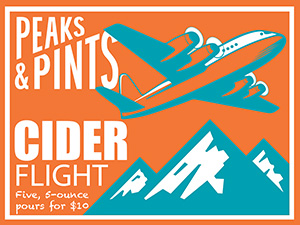 Fall is (finally) here! Between living up autumn life with apple and pumpkin picking, flannel everything, cold-weather recipes — and all of the aforementioned captured on your friends' Instagram feeds — Peaks and Pints bets you're ready for cider. The fall harvest brings farmers and communities together to celebrate another year of fruitful labor. It is a time of shorter days, cooler nights and great apples. Put down those Mexican lagers. Back away from the pilsners. Summer may have lingered a little longer than expected in Western Washington, but the times finally appear to be changing. Meaning that Peaks and Pints Monday cider flight takes a hard, cold look at autumn ciders. So, bundle up and enjoy Peaks and Pints Monday Cider Flight 10.8.18: Fall Flavors.
Pear Up Pumpkin Pear
5.7% ABV
Pear Up cidery was started by two brothers, Kevin and Mark Van Reenen, who wanted to make something of their grandfather's hobby orchard when the pears it produced were no longer profitable, and part of the orchard was torn out in 2004 — leaving only a dozen or so of the 75-year-old Bartlett trees and two of the Anjou trees, which are over 100 years old. Van Reenen is quick to differentiate perry from pear apple cider. Most pear ciders in the U.S. are apple ciders flavored or sweetened with pears. Actual perry, which is all Pear Up produces, uses pears in place of apples. Pumpkin Pear is a seasonal blend of pumpkin and crisp, dry pear. It's well-balanced, light, without an overpowering pumpkin spice flavor.
Finnriver Autumn's Blush
6.9% ABV
When one of Washington's earliest cidermakers, Drew Zimmerman, retired, Finnriver Farm & Cidery owners Keith and Crystie Kisler transplanted 1,000 of his trees from Mount Vernon to Chimacum, a heartwarming, if labor-intensive transition from old guard to new. Finnriver's Autumn's Blush is made with Organic heirloom Washington apples and organic black currants blending the lines between trees and vines. Expect crisp undaunted acidity, layered earth tones and a lighthearted sweetness to bring it all together.
Cider Riot 1763 Revolutionary West County Cider
6.9% ABV
When English Prime Minister John Bute imposed a cider tax in 1763 the people of the West Country rose up in a revolt known as the "Cider Riots." Two hundred fifty years later, Cider Riot!, a small-scale cidery in Portland's North Tabor neighborhood, made its first cider, fittingly entitled 1763 Revolutionary West Country Cider. The 2013 vintage was highly acclaimed, declared in the top three best ciders in Oregon by Willamette Week, and garnering a silver medal at the Great Lakes International Cider and Perry Festival. Yamhill County grown Yarlington Mill, Harry Masters Jersey, Dabinett and a few French cider apples lend robust tannins, and rich flavors to a cider that's worth fighting for. Fermentation from natural yeasts from the apple skins is augmented with wine yeast, for a full, dry cider, unfiltered in the tradition of a Somerset scrumpy.
d's Wicked Baked Apple
6.9% ABV
Let's talk Baked Apple, as in Kennewick-based hard cider maker d's Wicked Cider's 2015 U.S. Open Beer Championship gold medal winning creation. The cider company, which is owned by Daniel and Heidi Washam, owners of Sun River Vintners, also in Kennewick, opened shop with Baked Apple, which uses Washington apples to makes its three cider varieties. This off-dry cider hosts the flavors of Red Delicious, Honey Crisp and Granny Smith apples, finishing with a touch of allspice and cinnamon. Think grandma's apple pie without the crust.
Whitewood Hen's Teeth Fresh Hop
6.7% ABV
In 2012, when Dave White met Heather Ringwood in the cider naming room the two business partners created Whitewood Cider Co., the South Sound's first cidery. White has family roots in the state's apple capital, Wenatchee — his grandfather worked in the apple industry — so he doesn't mess around much with other fruits. In fact, White became a founding member of the Northwest Cider Association. Anyhoo, Whitewood Cider created a fresh hop heirloom blend — Jonathan, Newtown, Winesap, and others — cider with fresh El Dorado hops. Fruity and citrusy hop character is prevalent in the aroma without dominating. Hop flavor balances nicely against without overwhelming the cider's citrus character adding grapefruit, watermelon, additional stone fruit flavors and a good bit of bitterness.
---