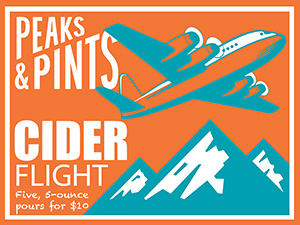 The term "farmhouse cider" stems from traditional cidermaking days when cider was made on a farm and its adjacent orchard was where its fruit was grown, in very small batches, utilizing timeworn techniques. Many makers believe farmhouse cider is more than a region of apple origin or a fermentation method — it's a philosophy that yields a beverage with a strong sense of place. Others believe farmhouse cider is generally produced from fruit grown onsite or just down the road. A true farmhouse cider is also unfiltered, unpasteurized and produced with minimal intervention from the cidermaker. Our cider flight today centers around cider grown on farms, but not necessarily a farmhouse style. Enjoy Peaks and Pints Monday Cider Flight 10.15.17: Farm Ciders.
Peaks and Pints Monday Cider Flight 10.15.17: Farm Ciders
Finnriver Farmstead
6.5% ABV
Inspired by World Apple Day Oct. 21, Finnriver Farm & Cidery invites friends and neighbors to bring their bruised, bitter and bizarre apples to the farm to add to the bins. The cidermakers then press and ferment this medley of fruit, and slightly sweeten to balance acidity and tannins. They conduct three different ferments with three different yeast strains to harvest subtleties from each and combine together for a cloudy yet clean farmhouse cider. Sweetened with organic cane sugar. It hits the nose with warm bread and sweet apple. It offers a rustic taste of the ripe orchard and hearty homestead cider tradition. Nutty with a sharp acidity that balances a gentle tannic finish. Unfiltered lees lend body to this cider.
Tieton Cranberry Cider
6.9% ABV
Tieton Cider Works has been growing apples in the Yakima Valley for three generations. Craig Campbell's grandfather planted apple trees in the 1920s, but it was until 2008 when he and his wife, Sharon, began growing cider apples on their Harmony Orchards in Tieton, Washington. They launched Tieton Cider Works in 2009, with the intent to maintain their practices of being good stewards of the land. The Campbell' Cranberry Cider hits the nose with bright apple and rosé and effervescent white wine tones with a bit of grape and berries. Crisp but sugary on the tongue loaded with apples and cranberry fleshy fruity tartness, loads of fruity sugars and a effervescent wine-y body.
Ole Swede Bada Bing!
6.9% ABV
About a 1,000 people live in Tonasket, a city in Okanogan County, Washington. Lucky them to have Ole Swede Cider in their backyard. Tonasket native Casey Oberg launched Ole Swede Cider on his family farm in 2014. His semi-dry Bada Bing features 90 percent apple with the rest bing cherries. The medium bodied hits the nose with apple and cherry followed by tart, mild real cherry flavor.
Baird & Dewar Silvestra
7.4% ABV
Let's face it. Baird & Dewar sounds more delicious than Trevor & Zeb. Trevor Baird is a highly regarded second generation farmer and fruit grower, whose peaches, cherries, and apples are used by many of Portland's finest restaurants and breweries. Zeb Dewar has made cider for more than 17 years, working for more than 10 years as a cellar hand, assistant winemaker, and harvest manager at premium Willamette Valley and Columbia Gorge wineries. He has been making cider from the apples grown at Baird Family Orchard for more than eight years. Baird & Dewar Farmhouse Cider was started slowly and quietly in the fall of 2011 as an extension of Zeb Dewar's home cidermaking. Silvestra is a dry, unfiltered cider aged for a year in oak casks for a Brett-y nose followed by crisp and effervescent, mild green apple tartness.
Sea Cider Witch's Broom
9.9% ABV
Take a ride on Sea Cider Farm & Ciderhouse's Witch's Broom — a spooky semi-sweet cider infused with a bouquet of fall spices that will send you over the pumpkin patch. With lingering notes of cinnamon, orange, nutmeg and ginger, Witch's Broom is as tantalizing as pumpkin pie; but her namesake is Scotch Broom, an invasive plant that threatens the West Coast. Its medium complexity is highly drinkable.
---