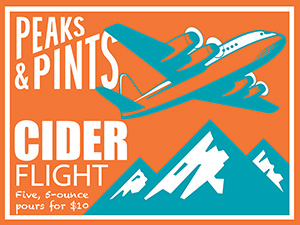 "It is indeed bad to eat apples; it is better to turn them all into a cider." Benjamin Franklin recorded this comment when overhearing a Native American's response to the story of Adam and Eve. One hundred eighty years before the United States, an iron screw likely was taken from a hard cider press and driven into the central mast of the Mayflower to prevent the ship from sinking. Indeed, hard cider played a pivotal role in the formation and of the early colonies in many aspects. The pilgrims relied heavily on apple cider for their basic survival needs — cooking, sanitary hydration and, of course, keeping warm in those frigid early winters. By the turn of the 19th century, hard cider consumption was recorded at 34 gallons a year for every citizen older than 15 years of age. It had earned its place as the most popular alcoholic beverage by staying cheap, strong and plentiful for every one of every class. Even the founding fathers had a strong bond with the beverage; John Adams proudly admitted to drinking a tankard of cider every morning because he believed it had a direct connection to longevity. He lived to be 91. It's Monday, which means Peaks and Pints offers a cider flight. Enjoy Peaks and Pints Monday Cider Flight 10.1.18: Pear, Apple and Hops.
Pear Up Pumpkin Pear
5.7% ABV
Pear Up cidery was started by two brothers, Kevin and Mark Van Reenen, who wanted to make something of their grandfather's hobby orchard when the pears it produced were no longer profitable, and part of the orchard was torn out in 2004 — leaving only a dozen or so of the 75-year-old Bartlett trees and two of the Anjou trees, which are over 100 years old. Van Reenen is quick to differentiate perry from pear apple cider. Most pear ciders in the U.S. are apple ciders flavored or sweetened with pears. Actual perry, which is all Pear Up produces, uses pears in place of apples. Pumpkin Pear is a seasonal blend of pumpkin and crisp, dry pear. It's well-balanced, light, without an overpowering pumpkin spice flavor.
WildCraft Suncrest Peach
6.9% ABV
WildCraft Cider Works, Eugene's first cidery, uses whole fruit for seasonal small batch ciders naturally fermented without artificial flavorings and added sweeteners. Their flagship ciders are made from Eugene-sourced apples. They also feature craft beverages created with pears, blueberries, plums, cherries, elderberries and, in the case of their Suncrest Peach, Eugene-grown, freeze pressed peaches pressed and fermented with a tart apple base for a clean, crisp and lightly fruity unpasteurized cider.
Cider Riot 1763 Revolutionary West County Cider
6.9% ABV
When English Prime Minister John Bute imposed a cider tax in 1763 the people of the West Country rose up in a revolt known as the "Cider Riots." Two hundred fifty years later, Cider Riot!, a small-scale cidery in Portland's North Tabor neighborhood, made its first cider, fittingly entitled 1763 Revolutionary West Country Cider. The 2013 vintage was highly acclaimed, declared in the top three best ciders in Oregon by Willamette Week, and garnering a silver medal at the Great Lakes International Cider and Perry Festival. Yamhill County grown Yarlington Mill, Harry Masters Jersey, Dabinett and a few French cider apples lend robust tannins, and rich flavors to a cider that's worth fighting for. Fermentation from natural yeasts from the apple skins is augmented with wine yeast, for a full, dry cider, unfiltered in the tradition of a Somerset scrumpy.
Snowdrift Red
7.6% ABV
Snowdrift Cider Company sits in Central Washington near East Wenatchee. The cidery controls its own source of apples, tending an orchard that not only produces dessert apples, but also an array of traditional cider apples including Dabinett, Foxwhelp, Golden Russet, Brown's, Wickson Crab, Calville Blanc d'Hiver, Yarlington Mill and Ashmead's Kernel. Snowdrift crafted this cider with apple varieties only a couple generations removed from their native ancestors in the hills of Kazakhstan. Their brilliant red flesh yields a crimson red cider with bright acidity, packed with flavors of cranberries, watermelon, rhubarb and strawberries, finishing with soft toffee tones.
Whitewood Hen's Teeth Fresh Hop
6.7% ABV
In 2012, when Dave White met Heather Ringwood in the cider naming room the two business partners created Whitewood Cider Co., the South Sound's first cidery. White has family roots in the state's apple capital, Wenatchee — his grandfather worked in the apple industry — so he doesn't mess around much with other fruits. In fact, White became a founding member of the Northwest Cider Association. Anyhoo, Whitewood Cider created a fresh hop heirloom blend — Jonathan, Newtown, Winesap, and others — cider with fresh El Dorado hops. Fruity and citrusy hop character is prevalent in the aroma without dominating. Hop flavor balances nicely against without overwhelming the cider's citrus character adding grapefruit, watermelon, additional stone fruit flavors and a good bit of bitterness.
---