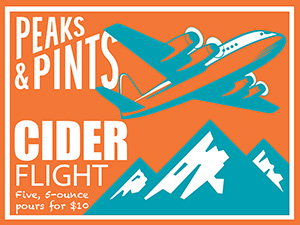 The range of style variations and forms the fermented apple can take make cider a unique libation, unlike any other. Today, cider is making an astronomical comeback in North America, and consumption of this beverage continues to rise at a staggering rate. Given the robustness of the craft beer world and the fact that cider drinkers are often converted beer geeks, it should come as no surprise that hard cider sales are rapidly gaining strength. As hard cider sales continue to increase, more and more new cider flavors are popping up across the nation, and on Peaks and Pints Monday Cider Flight 1.28.19: Variety.
Peaks and Pints Monday Cider Flight 1.28.19: Variety
Portland Cider Concord Grape
5.5% ABV
The reigning purple jewel of Portland Cider Co.'s seasonal cider releases, Concord Grape is a deliciously tart blend of 100 percent Northwest apple cider and fresh pressed concord grapes. It's on the sweeter side of semi-dry with a light body, and low to moderate tartness. We get notes of tart green apple, purple grape juice, lemon, and pomegranate.
Finnriver Perry
6.3% ABV
Pear ciders are comparable to apple ciders, with similar sour flavors and a nice biting acidity. The major difference (other than the pear flavor replacing the apple) is that pear ciders are more soft and muted than their apple counterparts. Fermented primarily from Finnriver Farm & Cidery organically grown traditional perry pears — as well as Hendre Huffcap, Yellow Huffcap, and wildcrafted seedling pears from Marrowstone Island — Finnriver Perry has a nose of wine and sweet pears, with a pleasant, round grapefruit note and a heart of clean, tannic pear. It's bright and quenching.
Schilling Chaider Spiced Chai
6.5% ABV
Cider is bound to no particular season, but nothing gets Peaks and Pints fully tuned in to the colder seasons like apples with some extra spice, or spices in the case with chai. The name "chai" is actually the Hindi word for "tea," which was derived from "cha," the Chinese word for "tea." The Hindi term chai means a mix of spices steeped into a tea-like beverage. Recipes for chai vary across continents, cultures, towns and families. But the traditional ingredients of a spiced tea blend usually include black tea mixed with strong spices, like cinnamon, cardamom, cloves, ginger and black peppercorns. The spiced tea mixture is typically brewed strong with milk and sweetened with sugar or honey. For Chaider, Schilling Hard Cider collaborates with Dragonfly Chai, Portland's organic tea microbrewery, mixing Organic Dragonfly Chai Mix with fresh pressed apple juice and yeast. Nose is intense chai spices; the flavor is also fairly dominated by chai spices, however there's a mix of vanilla, and sweet apples in there.
One Tree Caramel Cinnamon
6.8% ABV
Grant Barnes and Neal Hennessy started making cider as a hobby, and it turned into a vocation. One Tree Hard Cider started in Barnes' Spokane Valley garage, with exactly one recipe: a relatively straightforward semi-sweet apple cider. They went pro in the summer of 2014. One Tree's Caramel Cinnamon is an apple pie in a glass. Sweet notes of caramel and apples married together with the spice of cinnamon for a complex, classic American flavor profile.
Dragon's Head Wild Fermented
6.9% ABV
This is the Dragon's Head Cider version of a farmhouse cider. Rather than carefully selecting a yeast strain for the fermentation, the Vashon Island cidery allowed the wild yeast present on the skin of the apples to ferment the cider. It hits the nose with pineapple, green tea, and apple blossom. On the tongue, expect moderate tartness and acidity with mild funk, as well as, honey, citrus, pear, oak, yeast, earthy, and slight floral notes.
---