Peaks and Pints draft highlights, new beers and SudsPop
PEAKS AND PINTS MORNING FOAM
Wednesday, Nov. 14, 2018 — Yanni turns 64 today.
Peaks and Pints Weather Guy has today's weather for Mount Index, Washington.
Today's Morning Foam was compiled while watching a soccer-playing kid take on his opponents. Make today cryyyy!
PEAKS AND PINTS DRAFT HIGHLIGHTS
BRIMLEY'S BATTER, Skookum Brewery: A pastry stout brewed with cocoa powder and conditioned on whole vanilla and cocoa nibs. It's the definition of chocolate stout. 9.3%
GUNPOWDER PLOT NITRO, Black Raven Brewery: This annual release nitro porter celebrates the thwarting of Guy Fawkes and his band of anti-heroes' insidious plot to blow up the House of Lords with barrels of gunpowder Nov. 5, 1605. Black Raven soaked Anchorhead Coffee Roasters beans in top shelf bourbon, and cellared the whole shebang on criminal amounts of cocoa nibs. 6.9%
MAMA BEAR'S SOUR CHERRY PIE, Crooked Stave: An American wild ale aged in oak barrels with more than 3,000 pounds of Colorado sour cherries harvested on the western slope of the Rocky Mountains. It has a strongly acidic taste, but the cherry character is phenomenal. We also taste yeast, oak, vanilla, dough, and some caramel. 7%
CRAFT CHOICE CLICKABLES
After nearby wildfires forced Sierra Nevada Brewing to temporarily cease operations at its Chico, California-based production facility over the weekend, the craft brewery has resumed making beer. The country's third-largest craft brewery also announced the creation of a fund to help those affected by the blaze.
In December 1998, Art Larrance opened Cascade Brewing and the Raccoon Lodge and Brewpub in Southwest Portland. Twenty years later, the brewery is recognized worldwide for its highly-rated Northwest sour ales. The brewery will commemorate its 20-year milestone anniversary with a celebration that will include the exclusive 750ml bottle release of Cascade's Bourbonic Plague, one of its fan favorite projects.
The final beer release from Breakside Brewery's 2018 Barrel-Aged Sour Program is now upon us. To close out this year of its wide spectrum of sour beers is Quiescence, a blend of 13 casks of wood-aged sour beer aged for 12 months in Pinot Noir barrels from Archery Summit.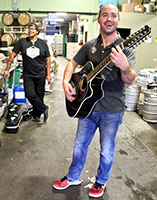 TODAY'S LOCAL STEW
SUDSPOP, Peaks and Pints: Imagine an intimate evening in Peaks and Pints' fireplace room listening to Seattle Cider Co. savant Eric Willard lecture on cider, drinking special ciders and enjoying live music by Kim Archer. It's a thing tonight. 7-9 p.m., $14, 3816 N. 26th St., Tacoma
PINAPALOOZA 2018, The Airport Tavern: Pinapalooza is a benefit for Nourish Pierce County Food Bank in effort to support needing families during the holiday season. The Airport Tavern has installed more than 30 pinball machines with tournaments, giveaways and raffle prizes. Bring canned/non perishable food Item for $1 off selected drafts. 4 p.m. to close, 5406 S Tacoma Way, Tacoma
FREE SOLO, The Grand Cinema: This highly praised, dizzying documentary reveals the heart stopping journey of Alex Hannold as he conquered Yosemite's El Capitan wall without ropes or safety gear. One false move — hell, one slightly imperfect move — and Honnold will plunge to his death. To watch Honnold think through each ledge of his climbs can stop the heart; to watch him navigate human emotion might melt it. 2, 4:20, 6:35 and 8:50 p.m., 606 S. Fawcett Ave., Tacoma
---