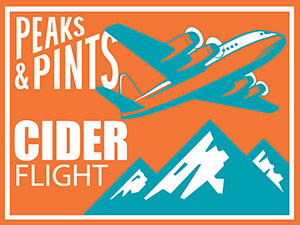 It's Monday, which means Peaks & Pints pairs a cider flight with a movie. These days, as you know, it means a to-go flight and a virtual screening room. Movie theaters have been closed amid the coronavirus pandemic. The good news is now cats want to do their part to help save local, independent cinemas. The Grand Cinema Virtual Screening Room hosts the Quarantine Cat Film Festival — feline footage submitted by cat-loving movie fans combined into a feature-length film produced by the owners of Row House Cinema in Pittsburgh. So, stop by Peaks & Pints for a to-go flight of tropical cider then watch the Quarantine Cat Film Festival at home. Sure, it will irk your dog, but proceeds from the film go to The Grand. Peaks and Pints Cider Flight and a Movie: Quarantine Cat makes for the purrfect night.
Peaks and Pints Cider Flight and a Movie: Quarantine Cat
Seattle Cider Papaya Sparkling Hard Cider
4.2% ABV
Seattle Cider has released a line of "Sparkling," which are inspired by seltzer and crafted in the tradition of their ciders, which means it's made with apples. They're light, refreshing, and naturally gluten free. The latest flavor is Papaya, which they tagged a Papaya Pride, a fundraiser for the local LGBTQ community — specifically GSBA, Washington's LGBTQ Chamber of Commerce.
One Tree Staycation
5.6% ABV
Grant Barnes and Neal Hennessy started making cider as a hobby, and it turned into a vocation. One Tree Hard Cider started in Barnes' Spokane Valley garage, with exactly one recipe: a relatively straightforward semi-sweet apple cider. They went pro in the summer of 2014. Their Staycation pineapple cider hits the nose with mostly apple plus vague hints of the pineapple and mango. The taste is really sweet and lightly tart. The pineapple and mango come through more in flavor.
Reverend Nat's Viva La Pineapple
6% ABV
When his North Portland neighbor begged him to take his backyard apples off his hand in 2004, Nat West began experimenting with fermentation, turning the small green apples into hard cider. His friends went nuts. West would go on to hold weekly free cider parties at his house, experimenting on his friends, which ended up at 50 or so people. In the summer of 2011, West launched Reverend Nat's Hard Cider. Then he put on his mathematician button-down sweater. He took a blend of fermented fresh apple juice sourced from Eastern Washington and added unfermented fresh pineapple juice. Then, he added a touch of cinnamon, cloves and allspice. The summary is spice and pineapple that hits the nose and tongue with notes of green apples and pear. Proof!
Fierce County Mango
6.8% ABV
John and Tolena Thorburn adore craft beer. For 15 years they traveled the world drinking it. But, an oversaturated market lead them to cider. Learning and enjoying the varying styles and flavors unique to each brewer and set of ingredients, the Thorburns applied that experience to years of homebrewing and cidermaking. In 2017, Fierce County Cider launched its first commercial operating space in a 97-square foot ciderhouse in Puyallup. The ciderhouse is built for efficiency, utilizing the latest brewing technology and equipment to allow lead cidermaker Tolena to create "fiercely" ciders, including Mango. The nano cidery's Mango cider blends the crispness of Washington apples with sweet mangoes for big juice flavor of Alphonso mango nectar without being overly sweet.
---