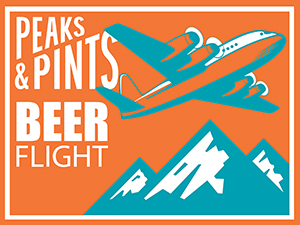 Of the many thousands of beers produced around the world, only 14 can use the name "Trappist." Six of them are made in Belgium, one in the United States, two in the Netherlands, and one each in Austrai, England, France, Italy, Spain and the United States. These beers are all brewed with three criteria in order to earn the name and mark "Trappist": The beer must be brewed within the walls of a Trappist monastery, either by the monks themselves or under their supervision; The brewery must be of secondary importance within the monastery, and it should witness to the business practices proper to a monastic way of life; The brewery is not intended to be a profit-making venture. Continuing with our Belgian beer celebration, Peaks and Pints presents a to-go flight of Belgian Trappist beers that we call Peaks and Pints Belgian Beerloo 2020: Trappist On The Fly.
Peaks and Pints Belgian Beerloo 2020: Trappist On The Fly
Chimay Premiere (Red)
7% ABV, 19 IBU
Chimay is made by Trappist monks cloistered away in Scourmont Abbey in Belgium (where they also make tasty Chimay cheese) with the operation's profits paying for the monks' pious lifestyle and charitable efforts. Having been around since 1862, Chimay's a relatively new entry in the world of godly beverages with three commercial beers, including its first beer, Premiere (Red). Its recipe was developed in collaboration between the master brewer, Father Théodore, and Jean De Clerck in the two decades following WWII. Chimay surprisingly prefers American hops, and have used Galena in the past. They now use Cluster hops. Interestingly, they don't use whole hops but extract because Chimay is designed to lay down and age, the monks prefer extracts, which hold their aroma and bitterness longer than whole hops. Red has a beautiful burnt-sienna color to it, and shows some cloudiness with a pretty decent head. It has a warming stone-fruit sort of smell that is pleasantly gamey. The taste is expectantly sweet, fruity, and malty — a whole lot of flavor without being overwhelming. It's an accessible example of the classic Belgian ale.
Brasserie d'Orval Trappist Orval
6.2% ABV, 36 IBU
The Orval brewery produces only one beer to sell, a beer with a high fermentation that continues in the bottle. It's brewed exclusively from spring water, barley malt, hop cones, candy sugar and yeast. The tantalizing aroma sings to the nose with candy-sweet overtones and slightly tart notes. Its flavor is pure refreshment with bready, honey-lemon sweetness up front that invigorates the palate and clears the way for the beer's slightly sour finish. Each bottle is different. The nose displays a tension between hop aromas and fermentation-driven notes that evolve in remarkable ways as bottles age. Dry, tart, and rustic Orval stands out among the typically sweeter Trappist beers.
Brouwerij der Trappisten van Westmalle Dubbel
7% ABV, 24 IBU
In 1836 the Belgian Westmalle monastery became a Trappist Abbey and began brewing beer shortly thereafter. The holy suds they produced started out as an insider-only deal — a choice beverage to be made and enjoyed by Trappists and Trappists alone, but eventually they decided to expand and opened up a public beer hall in the early 1930s. Westmalle Dubbel is a dark, reddish-brown Trappist beer with a secondary fermentation in the bottle. The creamy head has the fragrance of special malt and leaves an attractive lace pattern in the glass. The flavor is rich and complex, herby and fruity with a fresh-bitter finish. It is a balanced quality beer with a soft feel in the mouth and a long, dry aftertaste.
---