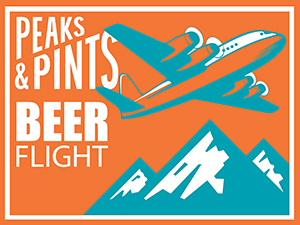 In September 1996, restaurateurs Brothers Steve and Scott Houmes added craft beer to their lives when they teamed up with brewmaster "Big Daddy" Don Spencer and opened Silver City Brewery in Silverdale, Washington. The Houmes' mission was to create happy, community-oriented restaurant and craft brewery. In 2008, the Houmes began distributing their beer around the Puget Sound. In May of 2010, the brothers moved their brewery operations to a new, 7,600 square foot production facility and taproom in Bremerton, which Scott Houmes runs. Last month, Silver City turned 27 making it Bremerton's oldest brewery. Stop By Peaks & Pints and taste their latest beers in an in-house beer flight we're calling Peaks and Pints Beer Flight: Silver City Brewery.
Peaks and Pints Beer Flight: Silver City Brewery
Silver City Tropic Haze
6.4% ABV

This beer spent some time in test tubes. Former Silver City brewmaster Don "Big Hazy" Spencer opened the secret experimental hop hope chest, brewed pilot batch after pilot batch, blind-tasted close friends and discovered a secret hop made for hazy IPAs. No, the pineapple juice, mango or orange flavors aren't additives; it's the secretive experimental hop behind the curtain. Tropical, indeed. Juicy tropical fruit, but not sweet and overpowering. Just the right amount.
Silver City Thaw Out
7% ABV
Before stouts and porters arrived on the scene, beer enthusiasts kept warm during the winter months drinking wassail or strong English ale. According to American Craft Beer, the main difference between a spiced wassail and a strong English is in the spice. Wassails used spices like nutmeg, allspice, cinnamon, or clove whereas a strong ale used more modern spicing agents such as hops. It was these two styles that would then become the base of what is now known as winter warmers — a category often receives their flavor from the malt bill and hints of spice or fruit. There's also usually notes of sweet caramel or molasses and light toasted flavors. Silver City's Thaw Out Winter Warmer Ale offers deep roast, caramelized sugars, and hints of tobacco, plus a clean hop character without adding additional bitterness.
Silver City Ride The Spiral
8% ABV
Many of the Silver City Brewery staff will be attending the Tool concert at the Tacoma Dome tonight. The brewery folks are hoping Tool performs "Lateralus," a song about simplifying your life, and focusing on areas in which you can have influence and create the growth you need, both for yourself and for those you care about most. "We'll ride the spiral to the end and may just go where no one's been," sings Tool's Maynard James Keenan, which is also a lyric that inspired Silver City's Ride The Spiral. The hazy double IPA packs a tropical punch of fruit flavor, with the addition of natural pineapple and orange essences within an intensely hopped, hazy IPA.
Silver City The Giant Made of Shadows
9.9% ABV
The designation "Belgian strong dark ale" is often used to describe dark abbey-style beers with strengths above about 8-percent alcohol by volume, the fuzzy upper limit for the dubbel style. Although the Belgians themselves do not use the term, there are many Belgian beers that fit the name, including Silver City's The Giant Made of Shadows. This strong, dark, malty Belgian-style ale is rich in dark fruit, caramel, and coffee character.
LINK: Peaks & Pints beer and cider cooler inventory
---