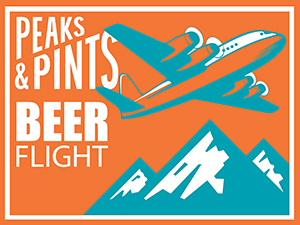 Englishman Adam Robbings' beer recipes killed at homebrew competitions, including winning the silver medal at the National Homebrewing Competition in 2012, and his talent, along with a Kickstarter campaign that raised close to $11,000, eventually earned him, and his wife, Grace, their own brewery — Reuben's Brews officially opened in Seattle's Ballard district in August 2012, which they named after their son, Reuben. Since then, the team has accrued an astounding number of accolades, including more World Beer Cup medals than you have fingers and toes. Today, the Grit & Grain Podcast — which records at 4:30 p.m. every Wednesday inside Peaks & Pints' event room — chats with Reuben's Brews' Sales Executive Larry Rock, who has been in the Seattle craft beer industry for 35 years. In celebration, Peaks & Pints presents an all-day flight of Reuben's beer — a flight we're calling Peaks and Pints Beer Flight: Reuben's Brews.
Peaks and Pints Beer Flight: Reuben's Brews
Reuben's Roggenbier
5.3% ABV, can

Rye has been a part of the brewer's tool kit since at least the Middle Ages. Bavarian Germans have been making roggenbier — a style similar to the German wheat beer but made with rye instead of wheat — for at least that long. Reuben's Roggenbier was one of the five beers they served on their opening day. Ever since, rye has been a guiding light for their brewery, helping them to chart a course for innovative beers with breadth and balance. Aromas of banana and clove as well as a light nuttiness lead into a medium-bodied beer with a chocolatey character and a spicy rye note in the finish.
Reuben's Brews Robust Porter
5.9% ABV, can

When Reuben's Brews opened in the summer of 2012, they had five beers on tap. In spite of the August heat, one of those beers quickly found favor with the friends, neighbors, and craft beer enthusiasts who turned up for our public debut: Robust Porter. It's remained in their lineup ever since and is now one of their five everyday favorites available year-round. Last month in Denver the judges at the Great American Beer Festival also chose it as one of their favorites, awarding this beer a silver medal in the Robust Porter category. Adam Robbings developed his Robust Porter recipe using British malts particular to Windsor, about 25 miles west of London, where he grew up. Eight different grains are used to create this multiple award-winning beer, pouring a deep brown with a creamy tan head like it has some weight. Roast malts are the star in both aroma and flavor that's nutty and slightly sweet with an espresso bitterness balanced by a touch of creamy vanilla, chocolate, and caramel sweetness, without being cloying or off putting.
Reuben's Crikey IPA
6.8% ABV, can

In 2014, Crikey IPA was originally the younger brother of Blimey, Reuben's Brews' triple IPA. Robbings took the Blimey recipe down a couple of notches to make it more approachable. And he used his three favorite hops at the time — really ramping them up in the dry hop. It was, and is today, their purest expression of a timeless West Coast IPA, and their most award-winning beer. Building body and balance with a combination of four different malts, Crikey layers in judicious amounts of Citra, Amarillo, Simcoe, Centennial, Mosaic, and Azacca hops for notes of grapefruit, guava, orange, and Douglas fir.
Reuben's Stay Frosty
6.9% ABV, can
At its most fundamental level, a Cold IPA is an IPA that is brewed with lager yeasts at colder temperatures, creating a crisp, drinkable yet generously hopped India Pale Ale. The use of lager yeast provides a cleaner aroma profile compared to more ester-driven aromas that arise from traditional ale yeasts. The colder fermentation also creates a lighter backbone that helps accentuate the hops. Reuben's Brews' Stay Frosty is a cold IPA fermented at cool temperatures that is supremely crisp and hop-forward.
Reuben's BBIS (2023 Edition)
14% ABV, draft — bottles in thee cooler

Reuben's Brews' Bourbon Barrel Imperial Stout, or BBIS, has been years in the making. It's brewed using the same oat-forward and British specialty malt recipe that they followed with the original release in 2013, which was aged in two bourbon barrels from Hair Of The Dog Brewing. Over the years Reuben's has adjusted and enhanced it, introducing new techniques to produce a bigger, richer, and silkier beer. Most of the barrels in this year's blend have spent about 18 months aging in 8- to 12-year-old bourbon barrels, with the addition of some younger BBIS to contribute to the complexity of this bold imperial stout.
LINK: Peaks & Pints beer and cider cooler inventory
---