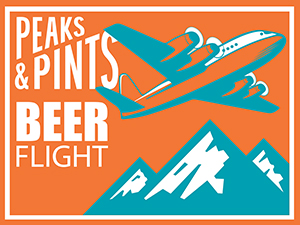 There are two kinds of people in this world: those who like pineapple-and-ham pizza and those who are pitied by the first group. Granted, the idea of eating pizza with pineapple on it sounds a little funky — until you try it. Once you do, the gates of understanding open and the pizza-delivery vehicle drives straight through to the brain's pleasure center. The same can be said about pineapple flavored craft beer and cider. After the first sip, the gates of understanding open and the beer-delivery vehicle drives straight through to the brain's pleasure center. Fruit lends a perceived sweetness to the beer, which cuts through a lot of the bitterness of hops. Today is International Pineapple Day, celebrating a tropical ground fruit indigenous to South America. It has been cultivated for centuries and was first consumed by the Tupi people, the Mayas, and the Aztecs. Let's drink beer with notes of pineapple in our in-house beer flight of the day, Peaks and Pints Beer Flight: Pineapple Notes.
Peaks and Pints Beer Flight: Pineapple Notes
450 North Slushy XL Leap Frog
ABV NA
In 2000, farmers David and Brenda Simmons switched from selling their slow-moving culinary grapes to making wine, they eventually added a brewery, taproom, and restaurant to their Columbus, Indiana, farm. In 2010, David fell in love with beer after he was gifted a home brew kit. Two years later, the Simmons opened 450 North Brewing. Their Slushy XL Leap Frog is fruited sour with double pineapple, raspberry, lime, jackfruit, and fruit punch.
Maui Mana Wheat
5.5% ABV, 20 IBU
Looking for a German-style wheat beer with a delirious touch of tiki? Nestle up to the bar for Maui Brewing's Mana Wheat. The Hawaiian brewery has, obviously, thrown in Maui Gold Pineapple into its wheat beer. Aloha! At first all you're likely to detect in the nose is a nice bright hefeweizen aroma of bananas and clove. Ultra-ripe pineapple flavor shows up subtly in the medium-length finish (along with a mild hop note), then gradually becomes more noticeable, though never heavy-handed. This craft beer literally brings the islands of Hawaii to you!
Belching Beaver Tropical Terps IPA
6.6% ABV, can
A re-release of Belching Beaver's Dam Good Decade Terps IPA from its 10th anniversary celebration in October 2022, Tropical Terps IPA is their first core beer that uses terpenes, which are aromatic compounds naturally found in citrus fruits, pine trees, hops, and cannabis. Brewed with Simcoe, Mosaic, Strata, and Citra hops, Terpenes bring to the juicy IPA new flavors and aromas that are unattainable from hops alone, featuring tropical notes of melons, mango, guava, and pineapple. The terpenes used for the beer were not derived from cannabis.
Alpine Duet IPA
7% ABV
Simcoe and Amarillo. Not a buddy-buddy cop movie but rather the only two hops in Alpine Beer's Duet IPA. On the nose, Duet's namesake is beautifully displayed as you can pick out the big contributions from the hop duet right away. Big-time nectarines, mangoes, pineapple, with mild undertones of citrus, likely from the Amarillo, with the wet, dank, pungent, and piney side from the Simcoe. They form a beautifully harmonious union with the tropical explosion versus the raw, dank hoppage. Duet is a tropicpalooza in the middle of an oily, hemp jungle.
Fast Fashion Luxury Tax
7.7% ABV
In 2018, Matt Storm, owner of The Masonry, and the man known for his intensely curated beer list and wood-fired pizza, hooked up with East Coast gypsy brewer Brian Strumke and his Stillwater Artisanal Ales to open the Seattle-based Fast Fashion brewery. The duo began brewing a series of small batch beers paired with a smart, fashionable Instagram account. Fast Fashion became its own fashion tribe of line-out-the-door beer culture. Their Luxury Tax is an intensely tropical double dry hopped IPA brewed with Idaho 7 and Freestyle Hops New Zealand Cascade with notes of pineapple and mango.
LINK: Peaks & Pints cooler inventory
---