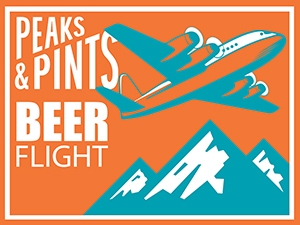 Pine trees are evergreen, coniferous resinous trees growing 10-260 feet tall, with most species reaching 50-150 feet tall. Pines are long-lived, some shooting their first roots well before Jesus, before Rome, before most forms of civilization whatsoever. And the extra oxygen? Yes, pines filter countless pounds of CO2 though all those sun-dappled branches to make us healthier, And happier. Because of pine trees. We mean, clearly. Sadly, many millions live nowhere near a good, healthy clump of pine trees, much less a deep, funky forest that, within minutes of entering, works some feral voodoo on your id and makes you realize, with a profound karmic thump, "I just might have this rat-race thing all wrong." The only pine in those sad people's lives are pine IPAs. Ah, you knew that was coming. After all, this little ditty is all about today's beer flight, which is, obviously, Peaks and Pints Beer Flight: Pine Notes. Yes, we are talking bold, hop-forward IPAs straight from the forests of the Pacific Northwest, with pine and citrus aromas. Pine/piney flavors are most found in IPAs brewed with high amounts of American hops. Many American hop varieties have some pine character to them, such as Cascade hops, which can produce a nice mix of pine, grapefruit, and citrus flavors. For bolder flavors of pine, look for IPAs brewed with fir tips, Simcoe, Chinook, or a combination of both hops. Some examples of commercially brewed craft beers using these hops are in today's in-house craft beer flight.
Peaks and Pints Beer Flight: Pine Notes
Oud Beersel Winter Lambiek
7.2% ABV
Lambic-style beers are known for their musty, tart, sour, acidic, and earthy flavors. Traditional methods used by Belgian brewers involve wild or natural fermentation with yeast and bacteria that are part of the area where they are made, which in Oud Beersel's case, Flemish Brabant. Oud Beersel's infused Lambic with pine buds, Winter Lambiek, combines the refreshing character of Lambic and the flavor of pine trees.
Bale Breaker TrailBreaker
6.8% ABV
Peaks & Pints travelled to the Yakima Valley and Seattle's Ballard neighborhood to brew our seventh house beer, Bale Breaker Brewing TrailBreaker IPA, which was first released at Peaks & Pints Seventh Anniversary Celebration Nov 1, 2023, and will remain on tap a full year. We toured Loftus Ranches that ultimately grew the hops for TrailBreaker, and then brewed the IPA at Bale Breaker's brewhouse in Seattle's Ballard neighborhood. Brewed with Simcoe, Cryo Citra, and Cascade hops, this old school, amber-colored IPA has notes of pine and citrus.
Pizza Port Swami's IPA
6.9% ABV
Swami's IPA was first brewed in 1992 to commemorate one of Pizza Port's favorite local surf breaks nestled below a spiritual enlightenment temple that sits on the cliffs above. This OG West Coast IPA can be described as Tang as the best descriptor for the orange bubblegum-esque aroma. The scent also calls to mind grapefruit, pine, and lemons. Brewed with Chinook, CTZ, Cascade, Centennial, Citra, and Simcoe, the hops give the beer a pleasantly bitter pine and cedar flavor that had a slight sweetness to it.
Fort George Magnanimous IPA
7% ABV
Magnanimous IPA is a yearly offering, a joint effort once again between Fort George Brewery and Earth & Sky Farm in Oregon City. Brewed with real Grand fir Christmas trees, the IPA is a straight-up ode to one of the more pungent essences of the Christmas tradition. Hundreds of pounds of fir tips were picked, packed, and vacuum-sealed into 10-pound bags. We're not sure if "O Tannenbaum" was blasting from the truck's speakers, but we do know the fir was trucked back to Astoria and delivered to a dedicated chest freezer located in the basement of Fort George co-owner and brewer Chris Nemlowill's home. It's safe to assume the fir tips were nestled all snug in the basement, while visions of Magnanimous IPAs danced in Nemlowill's head. When in the brewery there arose such a clatter, Earth & Sky Farm owners Tim Ensign and Jana Daisy-Ensign sprang from their bed to see what was the matter. Magnanimous IPA hit the kettles with generous amounts of hand-harvested Grand Fir trimmings and bountiful additions of Simcoe and Chinook for a noble blend of lush piney hops, spruce tips, mint, dankness, and a bit of floral hop.
Double Mountain Killer Green
7.3% ABV
Double Mountain Brewery was established in 2007 in the heart of downtown Hood River, Oregon. Founder Matt Swihart opened the brewery with a clear mission: make great beer for craft beer fans. Their unique location lends to not only using pure and clean glacial water for their beers, but they also take advantage of regionally grown hops. Killer Green fresh hop IPA is brewed with Centennial and Simcoe hops straight from Crosby Hops in the Willamette Valley. Quick from bine to the boil for initial bright evergreen, red fruit, and blood orange flavors that finishes will all the juicy pine and slight herb.
LINK: Peaks & Pints beer and cider cooler inventory
---