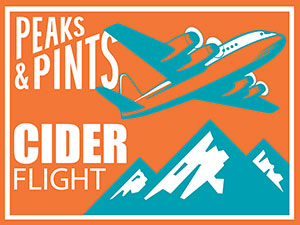 Seattle native Josh Pfriem began homebrewing while at Western Washington University in his early 20s then moved to Utah to be a ski bum. He worked at Utah Brewers Cooperative for a few years before moving back to his old college town of Bellingham to brew at Chuckanut Brewery where he helped win the Great American Beer Festival Small Brewpub of the Year in 2009. He moved to Hood River, Oregon. to work at Full Sail but left in December 2011 to open pFriem Family Brewers — across the highway from Full Sail along the banks of the Columbia River — in August 2012. Today, in celebration of pFriem releasing their new, year-round West Coast IPA on draft and in red, 12-ounce cans, and our release party for said new beer tonight, Peaks & Pints presents an in-house flight of pFriem beer — a flight we're calling Peaks and Pints Beer Flight: pFriem.
Peaks and Pints Beer Flight: pFriem
Pfriem Jammy Pale Ale
5.4% ABV
Brewed with Rahr Pale malt and Bob's Red Mill oats spread over Chinook, El Dorado, Mosaic, and Galaxy, pFriem's Jammy Pale Ale is rife with aromas of marionberries, strawberry preserves, candied pineapple, raspberries, nectarines, and peach, and round notes of cantaloupe, starfruit, orange zest, blueberries, watermelon, gummy bears, and lemon balm. It finishes juicy, jammy, and fruity.
pFriem Oktoberfest
6.1% ABV,

Festbier, sometimes called Wiesn, Festibiere or Oktoberfestbier — a name that can only be used by Breweries in Munich — has taken the place of Märzen in the beer tents dotting the Theresienwiese (Therese's Meadow) in Munich during the two-week Oktoberfest celebration. It is a relatively young, and mostly unknown, style here in the United States, but that didn't stop pFriem from crafting Festbier with a malt bill of Gambrinus Pilsner, Gambrinus Pilsner, and Weyermann Vienna balanced by Spalt and Tettnang hops. Brilliant pure gold topped with fluffy white foam. Fresh aromas of rising bread, biscuits, honey dew, green apple, and wildflowers, pFriem Oktoberfest offers flavors of honey, sourdough, white grape, and lavender with a round yet crisp and satisfying finish.
Pfriem Pumpkin Bier
6.9% ABV

Each batch of pFriem Pumpkin Bier is made with fresh pumpkin and real spices in addition to the standard malt and hops. Notice the thick bright white foam on top of a pumpkin orange body in the taster glass. Dip your nose for vanilla, ginger, cinnamon, and clove. The first sip reveals rich flavors of pumpkin pie with a touch of caramel. It finishes with a soft, creamy, and fluffy mouthfeel.
pFriem West Coast IPA
6.8% ABV
pFriem's new West Coast IPA is brewed with high-quality pale malt from British Columbia, and a touch of corn sugar to allow the hops to effuse a vibrant aroma. The beer incorporates a blend of Pacific Northwest's powerhouse, Citra, and Oregon's new-school hop, Strata. This fusion creates bright, aromatic notes of tangerine, cannabis, strawberry, starfruit, and grapefruit, and features a lean and bright palate. This contemporary interpretation of the classic style is designed to be dry and crisp, with a modern and striking hop profile.
pFriem IPA
7.2% ABV
pFriem's IPA is more of a Northwest IPA than West Coast IPA meaning its hazy and aromatic with assertive bitterness rather than lighter in body and brighter that is typically associated with West Coast style. pFriem's IPA is brewed with Rahr Pale malt, Simpsons Caramalt, Simpsons Crystal Light, and Simpsons Crystal Dark grains with Chinook, Mosaic, and Citra hops before it ferments with American ale yeast for dank aromas of peach, citrus, papaya, and blueberry, followed by bright flavors of lychee fruit, grapefruit, and light candy maltiness. It finishes fresh, hoppy, and piney, with a touch of grapefruit rind.
LINK: Peaks & Pints beer and cider cooler inventory
---
Category:
Beer Flight
,
Beer Line Blog
,
Craft Beer
,
Critical Drinking
,
Crosscut Flight
,
Events and Festivals
,
Houses of Craft
,
In The Cooler
,
New Releases
,
Peaks and Pints Lodge Meetings
,
Proctor District
,
Shop
,
South Sound
,
Specials
,
Tacoma events
,
Taps Takeovers