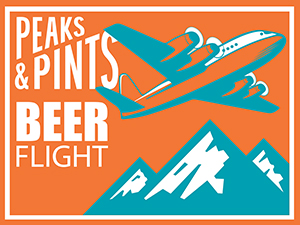 The Point Defiance Zoo & Aquarium's conservation fundraising unit, Drinking For Conservation, hosts an Australian Wildlife benefit at Peaks & Pints tonight. For every draft pull from 6-9 p.m., Peaks will donate 50 cents to the Wildlife Conservation Network Australia. To set the tone, Peaks will tap several beers brewed with Australian hops. Galaxy, Ella, Vic Secret, Enigma, Eclipse, and Topaz and many other Australian grown hops bring wild, tropical, and overwhelming bright, fruity characteristics. Today, Peaks & Pints presents an in-house flight of craft beers brewed with said hops — a flight we call Peaks and Pints Beer Flight: Drinking Australian Hops.
Peaks and Pints Beer Flight: Drinking Australian Hops
Holy Mountain As Within, So Without – Galaxy
5.5% ABV, can

Galaxy Aussie-native hops hail from a lineage of male European cultivars — particularly Perle —bred with local Australian high alpha varieties. Galaxy hops are versatile; they can accent and compliment or take center stage as the primary flavor. Their high alpha acid content makes them especially suited to aroma hopping and the distinctive mixture of citrus, passionfruit, peach, and hints of grass is sure to stand out. Holy Mountain Brewing's rotating extra pale ale series As Within, So Without features Galaxy hops this time around.
Lucky Envelope Galaxy Juicy IPA
6.4% ABV, draft
verflowing citrus, peach, and passionfruit flavors. Tropical island aromas dominate the nose, lifting you away to a far-off destination of flavor, like the coast of Australia, where these hops are grown since the mid-1990s, but released commercially in 2009. Lucky Envelope Brewing's Galaxy Juicy IPA features heavy whirlpool, dip, and dry hop additions of Galaxy for layered flavors of tropical passionfruit, citrus peel, and black currant.
Via Let It Happen
6.9% ABV, can

Charlie Devereux, the co-founder of Double Mountain Brewery and Wayfinder Beer, teamed with Kyle Larsen, the founder of the Hood River brewery Kings & Daughters, to start a new Portland-area brewery: Via Beer. Via brews on the 20-barrel system at Barrett Beverage in Clackamas, a contract brewer and distiller that debuted last summer when Larsen began brewing his Kings & Daughters' beer there. Via's Let It Happen IPA is brewed with Australian hops Galaxy and Vic Secret, plus New Zealand hop Motueka for multi-faceted citrus, tropical green fruit, and hints of cotton candy cruise over a lean, clean, golden malt base.
Lumberbeard Something, Something Hazy
7% ABV, draft

Vic Secret hop's story began when she was developed from a seedling created in Victoria, Australia, in 2000. She shares the same mother and father as her sister, Topaz.  She breezed through the selection program with strong growth and yield, until 2010 when the first brewing trials were conducted revealing her true character with extraordinary clean passionfruit and pineapple flavors with a light background of herbs and piney resin.  Put to the test in Australia and overseas, she has shown us that whirlpool and dry hop additions result in the best flavor pickup. Lumberbeard Brewing added a bunch of Vic Secret to El Dorado hops to make this hazy IPA super fruity.
Icicle Peak Seeker Double IPA Series – Gravity
7.7% ABV
Founded in 2010 by Pamela and Oliver Brulotte, Icicle Brewing continues to be a 100 percent family and employee-owned production brewery and brewpub in Leavenworth, Washington. The brewery draws water from nearby Icicle Creek, a run-off from surrounded by numerous mountain ranges including the Stuart Range and Wenatchee Mountains. The ninth release in their modern West Coast IPA series, "Gravity" is brewed with features Australian hop Eclipse, plus Mosaic, Simcoe and experimental HBC 630 hops. You can expect notes and aromas of complex mandarin, fruity citrus, and touches of tropical fruit. A portion of the proceeds from this delicious beer will go to help Evergreen Mountain Bike Alliance in their commitment to sustainable recreation, trail maintenance, advocacy, education, volunteerism and trail building.
LINK: Peaks & Pints cooler inventory
---
Category:
Beer Flight
,
Beer Line Blog
,
Craft Beer
,
Critical Drinking
,
Crosscut Flight
,
Drinking For Conservation
,
Events and Festivals
,
Peaks and Pints Lodge Meetings
,
Proctor District
,
South Sound
,
Specials
,
Tacoma events